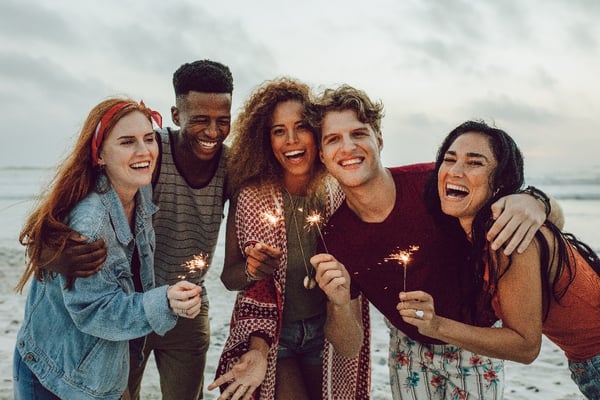 In a time where we are inundated with advertisements all around us, the challenge becomes how to create a singular piece of content that is engaging and memorable. Our previous work with Kantar revealed how integral humor is in preventing skipping behavior and improving brand affinity with audiences within the digital advertising space (check out our blog for the highlights!) Keeping all this in mind, our team at Affectiva Media Analytics wanted to examine just how far creatives can go with using comedy. Does edgy and unconventional humor appeal or detract consumers' perception of brands?
We embarked on a search to source a cheeky online ad and test it with our Emotion AI technology. We got the help of our Affectiva and Smart Eye Friends & Family AI Advancement Group to investigate how audiences may respond to this form of comedy. And in the spirit of the upcoming Fourth of July holiday in the United States, our attention was directed towards an old but topical every year Newcastle Brown Ale's previous Independence Eve campaign and If We Won videos. The short video series featured American and British celebrities explaining what life would have been like if Americans had lost the Revolutionary War and remained part of Great Britain. One part of the series starred English actor, writer, and comedian Stephen Merchant, who takes the time to list out what Americans missed out on, including the wide variety of (posh?) vocabulary.
Smiles for bants, rants and a familiar (British?!) face
Our ad testing AI saw a high level of smiles throughout the content even with all the swears and sass which could have been a lot more polarizing in response. An initial buildup commences as Stephen Merchant, a familiar face, appears on screen and reveals his 'true' identity. Smiles (below) are strongest when Merchant compares the Fourth of July holiday to an eternal breakup celebration with fireworks.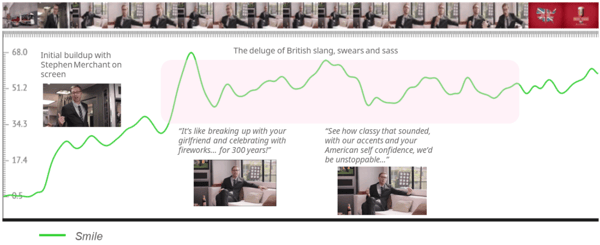 What is key to this creative's success is having the appropriate actor deliver these lines and have it seamlessly fit with the overall storyline. In doing so, the content seems believable and natural, and the audience can easily get swept up into his hypotheticals.
Surprising and shocking – British slang, swears and sass
In addition to smiles, we found some moments of genuine surprise contributing to the overall emotional journey. In one of these instances, Merchant asks viewers to imagine how "classy" Americans would sound if they incorporated some British slang into their vernacular.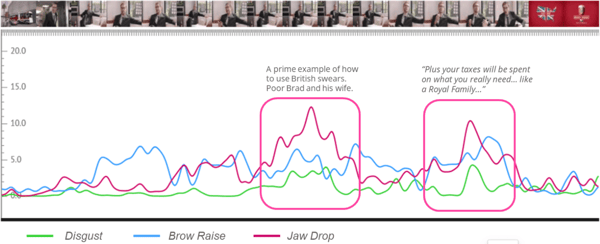 Merchant establishes his rationale of the benefits of being a UK citizen, whilst simultaneously adding sarcastic commentary that seems to contrast with each of his points. The dry and mocking humor from Merchant's demeanor and tone of voice evoked some minor signs of slight discomfort, but was still overly dominated by surprise and smiles.
What's the big deal with powdered wigs and mushy peas?
Although most people may know about general British and American stereotypes, we suspected the vocabulary choices, references, and contexts may be a bit unclear. Using our latest data pack with our Confusion metric, we identified a couple of confusing instances within the ad (below). An initial peak for confusion arises as Merchant exposes himself as "I am one of those Brits." Despite the uncertainty, the sentiment fades away immediately, thus not negatively impacting the story's coherence.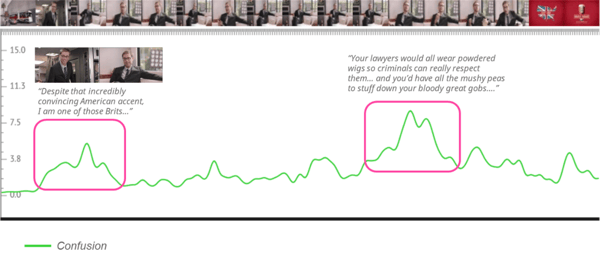 A second moment of confusion takes place as Merchant makes a slew of facetious comments that ends up poking fun at both Americans and Brits. In digesting both the humor and references, viewers are intrigued by why things like powdered wigs and mushy peas are worth including to solidify his argument… does it truly make a country that great?
Here's our two pence (we mean, cents):
While Independence Eve is not a real holiday, the campaign is a refreshing take to the typical Fourth of July beer and alcohol advertising that we tend to see in the media.
What makes the ad distinctive is that instead of having dynamic imagery to amaze, surprise and shock the audience, the creative agency chose a rather simple visual. And the delivery, which is not overly larger-than-life, creates an engaging and comprehensive narrative. Viewers fixate primarily on Merchant's words, intonation, facial expressions, and body language with each zinger.
Our Emotional ad testing AI shows that edgy comedy can enable companies to produce long-standing memorable brand content and cultivate a stronger relationship between their brands and consumers. In If We Won, viewers expressed high emotional positivity at the start, followed by emotional intrigue, and ending with positive engagement: all of which are vital elements to a successful creative. And although fruity language might not be everyone's cup of tea, if it is presented in a lighthearted and amusing way that complements the storyline, viewers will overlook the foul language and focus on the witty repartee.