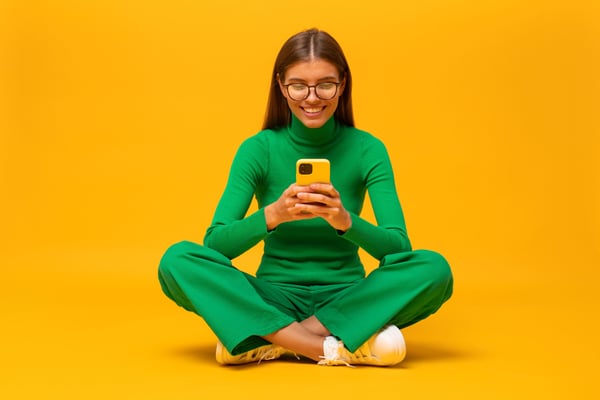 As many of us know, 'Generative AI' is a type of artificial intelligence that uses algorithms and preexisting content to create text, images, code, video and more. And after its recent launch it generated volumes of conversations within many sectors and industries, including within marketing and advertising domains, specifically about its practical application in some of the creative processes. A lot of creative agencies started 'playing around' with it to discover its capabilities. It proved to be very compelling in some areas; however, our team had doubts that AI can create a truly emotionally engaging story — which we know is pivotal in effective advertising. So, we decided to run an experiment to explore this further.
We found an advert created for VisitDenmark where the creative agency has leveraged power of generative AI technology to bring some of the world's most famous tourist attractions to life and make them their ambassadors to deliver a witty narrative about Denmark.
While the overall big idea of the ad came from the creative team, the scripts are 100% generated by AI, edited for length and accuracy only, and they used deepfake AI technology to animate the characters. This intrigued our team at Affectiva, and we wanted to dig deeper as more organizations embrace the usage of generative AI. Does this type of content appeal to audiences? Is this sort of content a novelty or something potentially impactful?
To evaluate VisitDenmark's generative AI created ad, we used our Emotion AI to help to decipher pre-conscious emotional responses to content. We used our small community panel, recording their facial expressions watching the ad (always with their explicit consent!) and answering a few survey questions about their perception of the advert. As our participants viewed the content, our technology was able to decode an array of facial expressions shown on as reactions to the ad.
In order to make this experiment even harder, we decided to test and benchmark the VisitDenmark ad's performance against another more traditional tourism ad. In No one upstages the Grand Tour of Switzerland, created for Switzerland Tourism, a humorous dispute takes place between former professional tennis player Roger Federer, actor Anne Hathaway and the creative crew about an ad they just filmed promoting Switzerland. After all the banter, the group comes to the conclusion that the Grand tour of Switzerland is even more majestic than Roger Federer's abs.
So, we showed both ads to our participants to evaluate the power of emotional engagement, and answered the question of…
Is AI animated Vincent Van Gogh better than Roger

Federer's

abs?
As a result of it, we found both ads equally engaging! These Emotion AI traces on the chart below show the moment by moment emotional engagement (in green) and elicited smiles (in blue) throughout the ads. And indeed, both the ads averaged at the same level for both.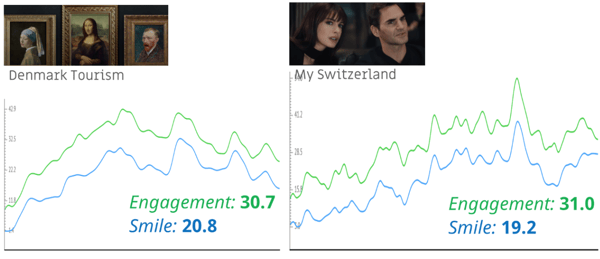 Looking at the MySwitzerland ad data (below), the content ticked all the boxes leveraging all powerful creative tools including storytelling, celebrities, and humor. And it works — we see emotional engagement building up exactly as intended. At the beginning of the story people are frowning more so (Brow Furrow trace in blue, below) as they decode the premise of the story narrative, but soon enough smiles become dominant as people are reacting to the humorous side of this supposedly 'tense' conversation between Anne Hathaway, Roger Federer and the creative director.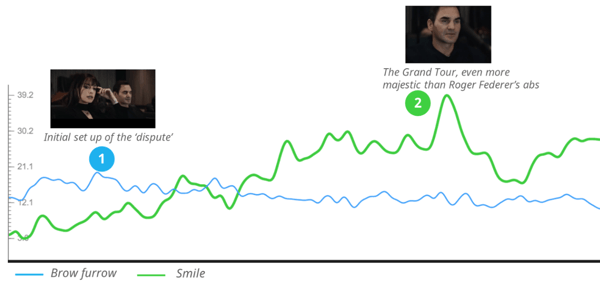 As expected, the joke about "The Grand tour, even more majestic than Roger Federer's abs" resonates the most with the audience, and creates the most emotionally charged moment incorporating the brand, which is pivotal for effective advertising.
Answering the question in the title, Federer's abs joke is more engaging, but the overall ad performance between both videos were on par with one another. Because what we also found is that…
Generative AI can be funny!
What is really encouraging is that the positive engagement is not just coming from amusement about talking paintings, but that people are actually reacting to the AI written jokes weaved in the narrative, such as the witty wordplay from Van Gogh, self-irony about the Danish food scene and cheeky note from Mona Lisa getting lonely in the museum.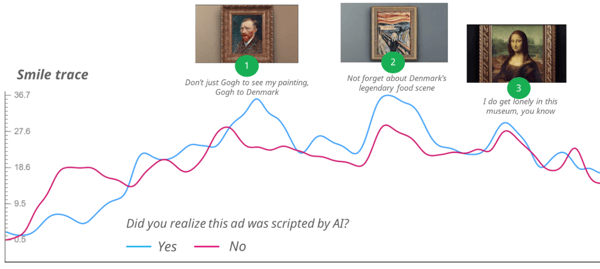 Only half of the participants realized this ad was scripted by AI, but regardless, the positive engagement is equally strong as we can see high levels of smiles across both groups. The part of the audience who did recognize the AI creation might be potentially a bit more skeptical at the beginning as there were less smiles at the start (above, trace in blue) versus those who perceived it as a more conventional ad (above, trace in pink), but shortly afterward everyone gets on board with the humorous story told by the world-famous paintings.
So the VisitDenmark ad is not only a fun AI experiment, but is an engaging narrative in its own right and the results are essentially indistinguishable from a 'real' ad.
Generative AI in the creative process: fun experiment or practical tool?
While there may be some conflicting opinions about generative AI and its use cases, it looks like it is here to stay. In our case study, we saw that it indeed can assist and enhance the creative process; however, human touch in the execution and consumer centric creative idea remains critical to ensure success.
AI is capable of creating emotionally engaging content and can do much more than just deliver an 'infomercial' narrative. Emotionally engaging content charges the creative and increases likelihood of attention and long-term memorability. However, just having high engagement is not sufficient. Effective advertising needs to ensure the brand is integral to the story narrative. This in turn will enable the content to imprint meaningful brand associations driving brand equity.
Last, but certainly not least, there is the continued need to measure the effectiveness and sales impact a campaign can have. Understanding ad performance by using tools such as Emotion AI can bring valuable insights to advise your creative and media strategy (AI generated video content or otherwise) — sometimes even the most 'obvious' ads can reveal unexpected insights about its performance when you research it with the consumers.
If you are interested in participating in similar research please join our Smart Eye Group Friends & Family community.