This blog was written by Alex Duckett, Affectiva's Account Director of Media Analytics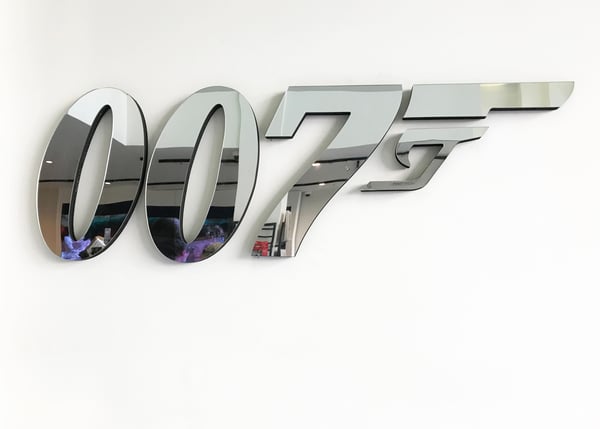 We know that emotions influence consumer behavior. When it comes to movie trailers, understanding viewer emotional engagement with that content is key to creating an experience that makes a viewer want to see more. Affectiva's Media Analytics solution provides deep insight into unfiltered and unbiased viewer emotional responses; which can help movie studios & their partners understand and optimize content to land with real impact, amongst an intended audience.
Let's take a look at an example of how this works using a trailer for the forthcoming James Bond movie: "No Time to Die."
Insights: Emotional Highlights
In our study we measured many dimensions of response, including viewer valence—that is, their "net positivity" to the content. This is shown 'moment by moment', in the green line below.
Looking at the spikes in emotional positivity, it is evident that they rest on some classic Bond references; such as the black-tie imagery, but particularly the iconic action moments of the guns emerging from the headlights of the Aston Martin.
As the trailer closes, the mix of action and iconic imagery has ensured that the viewer is left on an 'emotional high'. The trailer has successfully triggered positive feelings towards the movie.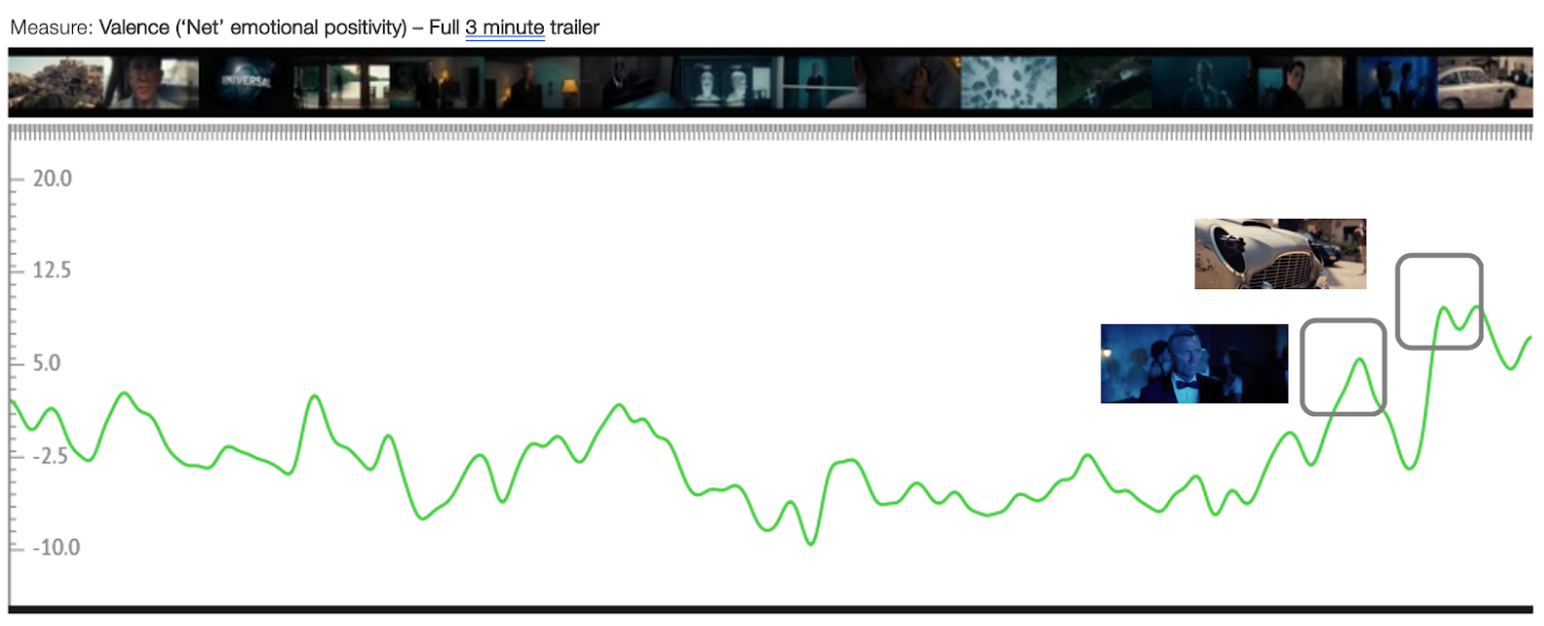 Insights: The right 'creative hook' for your audience
However, we can go deeper, so let's take another look at valence, but this time amongst self-described "Bond fans," shown by the blue line, versus all "other types of viewer", shown by the pink line. We can layer in any demographic or attitudinal information such as this into our Emotion AI dashboard.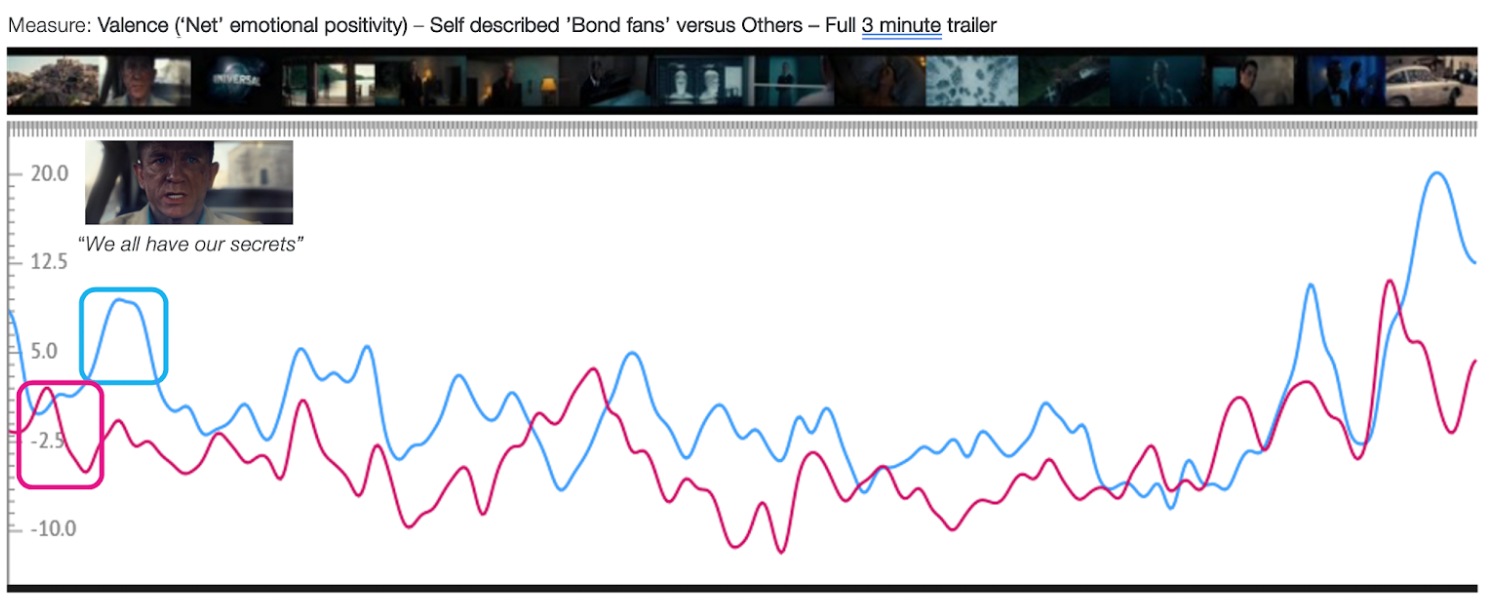 Grabbing attention and emotionally engaging a viewer from the start is an important requirement across different types of marketing content. With viewer attention in high demand, striking a powerful emotional chord from the outset can be a real challenge. In this trailer we can see that the conversation between James Bond and Madeleine Swann immediately grips 'Bond fans', with valence spiking after the first few seconds of the trailer (see area highlighted in blue)
However 'non-Bond fans' experience a drop in emotional positivity following the first few seconds. We can infer that 'non-Bond fans' will not likely have the same depth of knowledge of the relationship between the characters developed in the previous Bond movie. Therefore the scenes at the beginning of the trailer are likely being understood by non-Bond fans, but without a picture of the 'full backstory' clearly in mind.
What does this mean?
If the intention was to edit the trailer to further widen the appeal of the franchise beyond Bond fans, 'non-Bond fans' would likely need something more instantly relatable to immediately respond with positive emotions. Further, if we turn the Emotion AI on Bond himself, we can see strong negative emotions. Each viewer will need to process and fully contextualize the emotions on display in the trailer.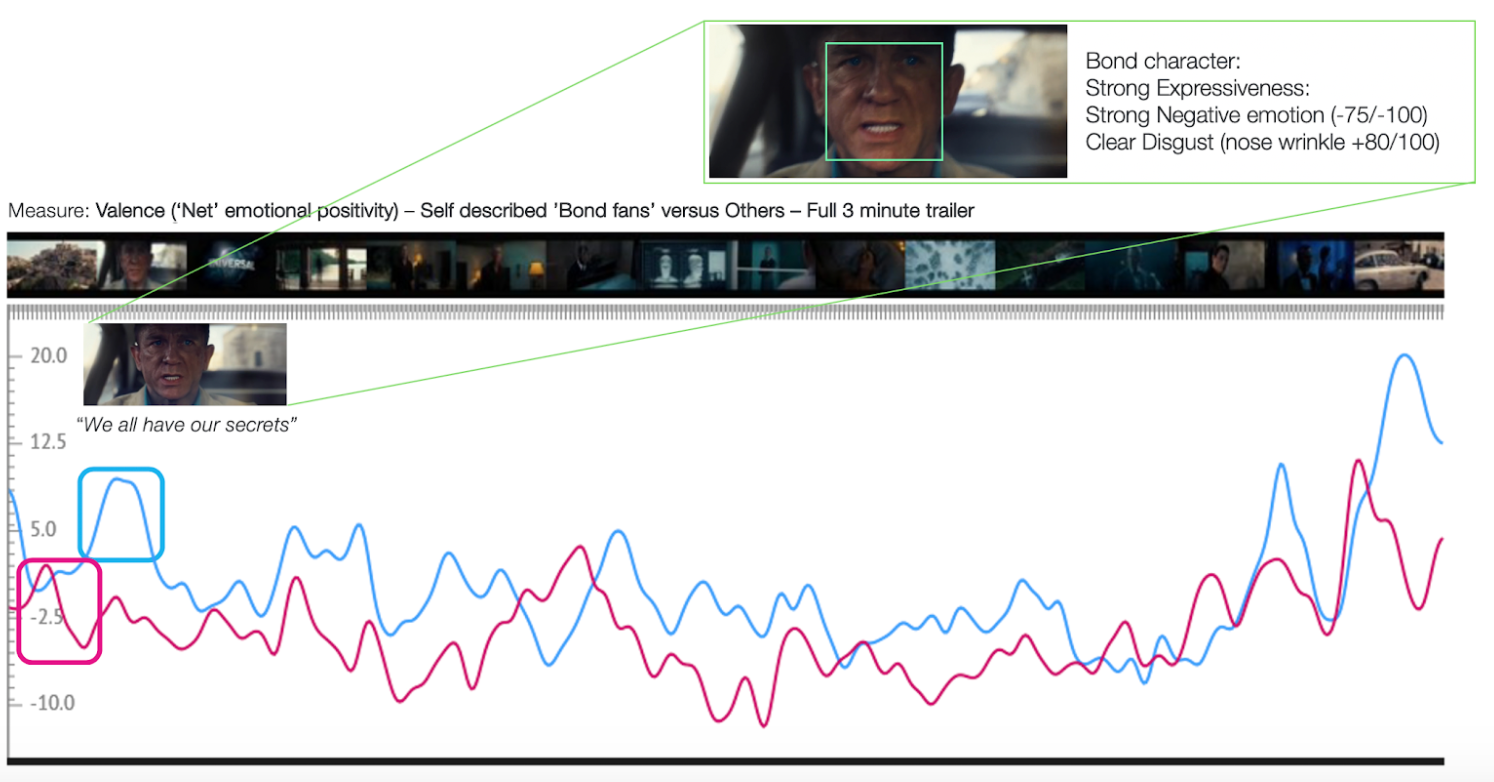 Insights: Context is king
One other more timely insight of note: we also saw that viewers who reported in our survey that they are concerned about Coronavirus express high levels of 'brow raise' when they see the name of the movie, 'No Time to Die', at the end. This emotional reaction suggests the delay to the full release of the movie prior to full lockdowns being in place was appropriate not only commercially, but in terms of potential viewer appeal.

The Bottom Line
Emotion AI technology can add real insight into viewers responses to entertainment content and deliver a deep understanding of the way different audiences respond. This allows content creators to research and optimise their narrative among large audiences, without the need to gather people together in a central venue.
Interested in learning more about Affectiva's Media Analytics offering? Contact us today for more information!