We all know that emotions influence consumer behavior and decision making: brands, advertisers and market researchers need to understand consumers' emotional engagement with their brand content. Through emotion analytics - like Affectiva's Affdex for Market Research product - you can get quality emotion data to create better ads, and to more effectively allocate your media spend.
Leading market research firm Kantar Millward Brown uses our patented emotion recognition technology to measure consumers' emotional responses to digital content. Our software uses facial coding to provide deep moment-by-moment facial expressions. As viewers watch ads, their emotions are measured, aggregated and displayed in our dashboard.
Finding the Balance Between Entertaining, Branding & Communicating
Kantar Millward Brown recently published a research study, "Advertising: Make a Lasting Impression" demonstrating how emotional relevance and creative engagement in advertising are critical to success. In the report, Kantar Millward Brown identifies five key creative development principles used successfully by brands around the world.
#1: Make a Meaningful Impression
This first principle calls out how brands that are meaningfully different have the greatest chance of financial success. Superior functional differentiation offers perhaps the best way to motivate people to buy, but too many ads try to tell people what the brand does instead of showing them the benefits of using the brand.
Emotional, Meaningfully Different Ad Example: Amazon's 2016 'Priest and Imam'
You may recall this Amazon ad that celebrated interfaith friendship, where two old friends meet and both realize they're not quite as young as they once were. The priest has a great idea and orders knee pads from Amazon for his friend. The viewer soon sees that the imam has the same idea.
There are few overt product messages in the ad - the priest using the Amazon app and the emotional payoff of being able to order with one click and have a gift delivered the next day. The ad closes without an end line or use of the brand's name. Instead, we just see the Amazon Smile.
The 'Priest and the Imam' first aired on TV and then achieved viral fame. Twitter was filled with comments from people who said it was a beautiful ad that made them cry; others said it gave them hope.
When Kantar Millward Brown researched the ad, the response was very positive. It triggered very strong emotional responses, with enjoyment in the top 20% of ads tested in the UK, and the app usage drove strong linkage to the Amazon brand. Most importantly, the ad's Power Contribution score, which is a Kantar Millward Brown measure of the ad's likelihood to drive long term brand equity was in the top quarter of ads tested, showing that it gave people reasons to be predisposed to Amazon into the future.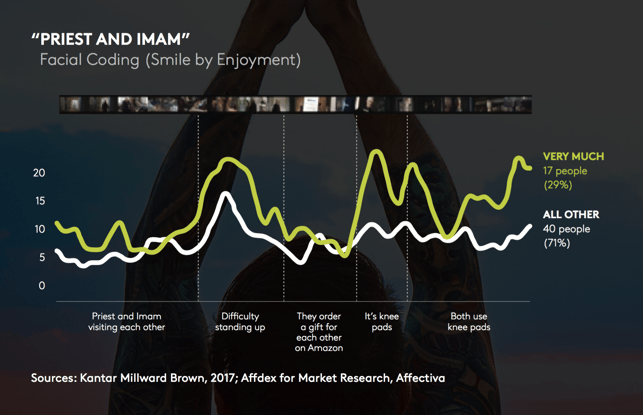 #2: Good Storytelling Leaves an Impression
This next report concept covers how stories can be very powerful for brands: they present the opportunity to engage audiences and to provoke emotional responses. Ads that use storytelling are more noticeable and more memorable, which contribute to sales. They are more likely to generate smiles; and we've seen that ads that make people show emotion on their face generate more short-term sales than ads that don't.
Great Storytelling Ad Example: John Lewis' 2016 Christmas Ad
UK retailer John Lewis put out the Christmas ad, 'Buster the Boxer', in which we see a little girl's Christmas present, a trampoline, enjoyed by wild animals, and then by her dog, Buster, on Christmas day.
This story works well for John Lewis: it is enjoyable, easy to understand, and differentiates the brand from other retailers. It has the ability not only to generate short term sales, but also to support the brand's longer term equity. Facial coding shows the ad has a high positive valence, with a gradual build in smiles, peaking at the end of the ad.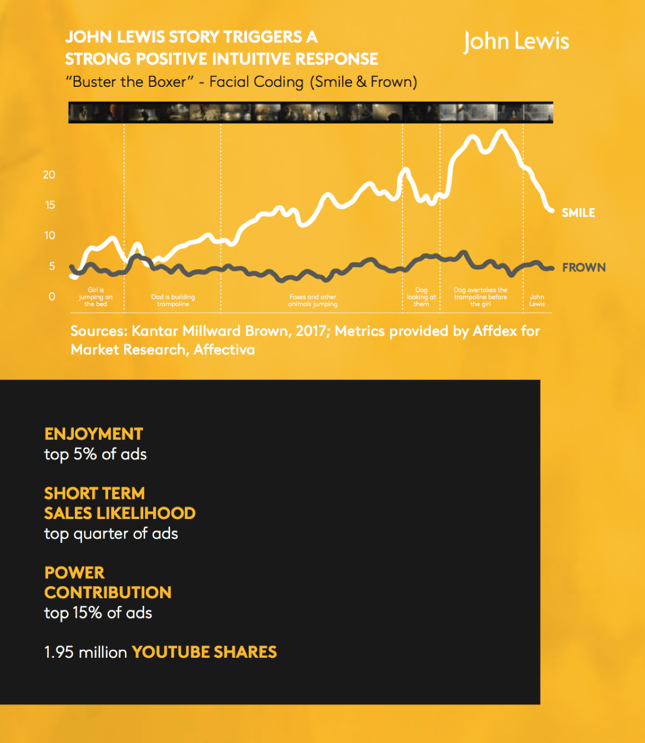 Kantar Millward Brown's database shows that, when compared with ads that focus on a key message, ads with creative impact, driven by branded, emotional engagement, have a much clearer relationship with in market sales effects. Failing to get the key message across in ads is associated with a lower likelihood of a sales response – but this is dwarfed in comparison to the problems caused by failing to engage viewers.