As you may have noticed recently Affectiva has rolled out new branding. From our newly launched website to an interactive logo system, we are pleased to bring you Affectiva 2.0.
Repositioning Affectiva as an AI Company
In the past year we have put a lot of hard work into repositioning Affectiva as an artificial intelligence (AI) company. We continue to partner with leading brands and market research firms to analyze how consumers respond to digital content such as ads and TV series. We also continue to drive innovation in the media and advertising space. But as our interactions with technology become more relational and conversational there is a need to humanize these interactions. This means enabling devices and advanced systems with the ability to sense human emotion and adapt to it: or, artificial emotional intelligence. At Affectiva we coined the new tech category Emotion AI, and have worked hard to own this new space to the point that we are now recognized among leading AI companies.
Rebranding Affectiva
The new Affectiva deserved a cool brand: a fresh face to the public. This initial project started last summer with the idea of launching a new website. Quickly that project expanded into rebranding, which has now been rolled out to all of our digital channels, collateral, and even our new office location. The designer behind our website and brand magic, Gary Pikovsky of Piko, was tasked with the challenge of visually representing all of the complexities that encompass Affectiva. We would like to share with you his thought process behind our new look, and shed some light on the meaning behind our re-branding initiative.
Introducing the New Affectiva Brand: Driven by Emotions
Affectiva is an emotion recognition company. In working with us, Gary identified 3 qualities of the company that he wanted our new website and logo to represent:
1) Clarity. We are the Emotion Company. Our specialty is emotion recognition, and we needed a clear and accessible design that reflected that. Our old website did quite a bit of telling, but not actually showing what we and our clients do. That we set out to change with the new site. Also, as we are innovating in technology building things never done before, we wanted a hip logo that conveyed that we do emotion.
2) Simplicity. We needed to simplify the experience of visitors, starting with the logo, a responsive website and content, both for the average person and for tech audiences. We wanted to make the navigation easier, reducing the amount of clicks from users for easier access to resources and our latest content.
3) Wit. We wanted to keep our communications light and talk to you as if you were a regular person rather than a big corporate brand. We understand people like to have things explained in ways they could understand - without losing the weight of our science.
The New Affectiva Logo

A brand starts with a logo and expands outward. A huge part of of our 3rd quality -- wit -- is encompassed in our new logo. Emotions always change, they are the core of who we are as people. There is never only one emotion, so why not have a changing logo as well?
The result was a series of emotions represented in a single logo with emoticons that could be switched out. Depending on what we wanted to represent -- and what individual employees wanted to show on their personal business cards -- you can select whatever emoticon you want. This adds a little bit of humor to our site as well, as the wide spectrum of emoticons were assigned to different sections. The logo system was designed to represent the complexity of the company, and is intended to grow and evolve with the company over the next few years. The subtle movement incorporated into the logo also makes it dynamic: a wink face, or movement of the mouth speaks the same language of the site. That is, emotions are also bold, complex, and constantly changing.
Here is the business card Gary created for me. The emoticon is "curious", he assures me the inquisitive curious and not the strange one…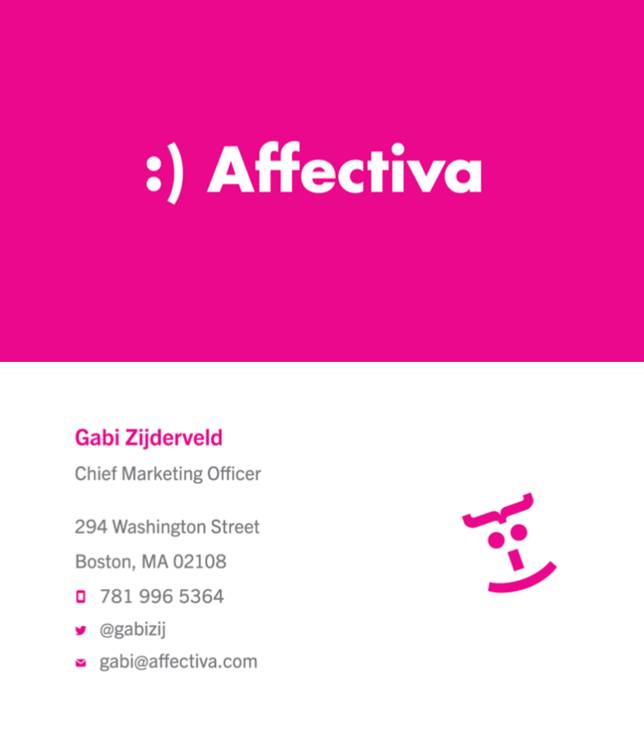 Color Choices: Magenta and Green
Aside from the bold photography of the site and the emotive logo, there was the matter of the new brand colors. The predominance of visuals and photography on the site meant a need for the new colors to stand out and aid as a navigation element. Gary chose a friendly color combination that was strong and bold, that would work together really well, and would be a modern combo that could also take the company into the foreseeable future. Our new magenta and green colors are both memorable and unique.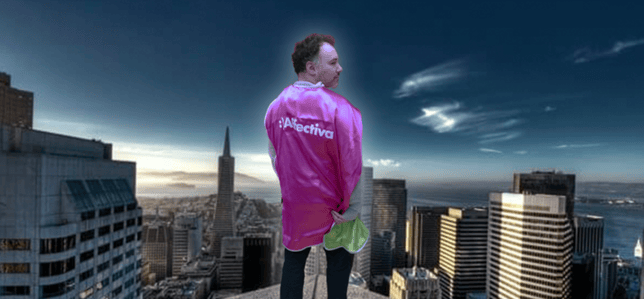 We are all superheroes at Affectiva.

What's Next for the Affectiva brand?
While our new site launch was a dramatic statement, it is only phase 1. In the next few weeks we will launch a new Developer Portal with a lot of fresh content and a developer community. The next iteration of our brand will further add emotion layers to our website. What if the site could dynamically respond to the emotions of the user and serve content based on how the viewer is feeling? This is possible with Emotion AI and as soon as we have completed exciting new deliverables on our product roadmap, we will direct attention to that.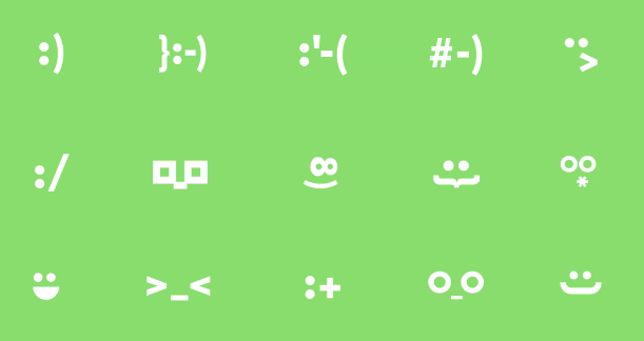 Last, but certainly not least, we also have to thank Expand The Room (ETR), the digital agency that did the development work for our new site. Their team became very familiar with our Emotion AI, iterated with us on usability and worked many long days to implement the site Gary designed. They did an awesome job!
Gary Pikovsky is a Boston-based creative director specializing in creating delightful experiences for a diverse group of clients. He focuses on experience design, branding, apps, infoviz, branding, print, environmental design, photography and product design. Gary's portfolio includes projects created collaboratively over the last fifteen years at his studio, Piko, as well work done at Pentagram, The Partners and other design firms. Gary's work has received awards and honors from Graphis, FWA Site of the Day, Awwwards Site of the Day, Print, Communication Arts, BoNE Show, HOW International, AIGA Journal, and Art Directors Club, among others. Follow Piko on Twitter.
ExpandTheRoom (ETR) is a team of creative problem-solvers working closely together at an extremely high level of execution. ETR is an award-winning digital creative agency that places quality above all else. Located in lower-Manhattan, ETR specializes in creating digital experiences and focuses on design, UX, development, strategy, and branding. FLUID, their proven design process, combined with passion for the industry has afforded them over a decade of success. They work with big brands, exciting start-ups and the best non-profits.