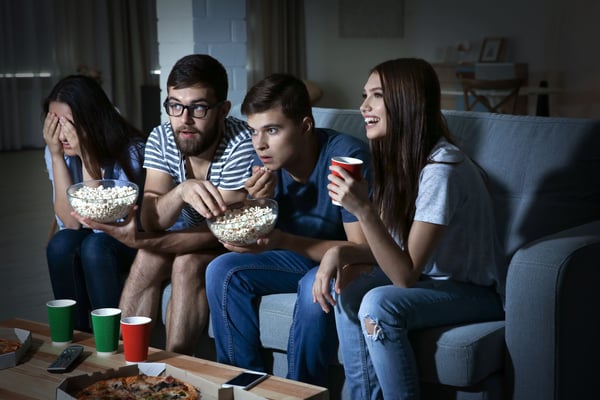 At Affectiva, a business unit of Smart Eye, we are human first in everything we build, and our products reflect that. Our proprietary Emotion AI-backed SaaS platform helps Fortune Global 500 advertisers and entertainment content testing clients read facial expressions. We generate real-time insights on human sentiment to empower decision making. But harnessing the power of AI for media analytics doesn't have to be as complex as it sounds! By evolving our product and migrating to a new platform, we've unlocked endless new possibilities out of our technology, while also making it more intuitive for different users. If our SaaS platform was a person, you might describe them as approachable but deeply insightful in understanding consumer behavior.
The Problem:

Addressing User Experience in Complex Technologies
Originally, our core product aimed to support the advertising, entertainment, and research industries to understand consumer reaction to content in a qualitative manner. Clients were immediately won over by the power of our technology in reading real-time human emotion but were looking for ways to translate it into useful insights. Amidst the depth of information generated from our technology, there was a clear need for more approachable analytical features to help generate useful data and visualize human sentiment in a way that can inspire strategic direction. We were chasing that "aha" moment for our clients.
We looked at some of our favorite B2B AI products and noticed that the most successful ones leverage a design that invites and assists the user in breaking down complex information to make it consumable and useful. Our aim is to bring easier access to complex technologies that power our products.
When updating our interface and feature set, we had to strike the perfect balance of implementing positive changes to increase satisfaction without breaking mental models, learned patterns, and expected interactions. User experience can significantly impact adoption of the entire technology and requires one to tread softly.
Our Solution: Intuitive Emotion AI Platform with Advanced Features for Deeper Insights
Our new platform launches an Emotion AI product which is more intuitive, customizable, and easy to navigate in order to unlock deep insights (think: long form content). It is proactive and gathers feedback to support a constant flow of improvements to both the back and front ends. A common misconception is that AI is used to predict response from the content itself. Instead, Emotion AI analyzes responses in real time to content. New features like norm lines, pictured below, give an extra understanding to the meaningfulness of peaks and valleys. It helps our client better understand how our technology works and the power of real time analysis over prediction.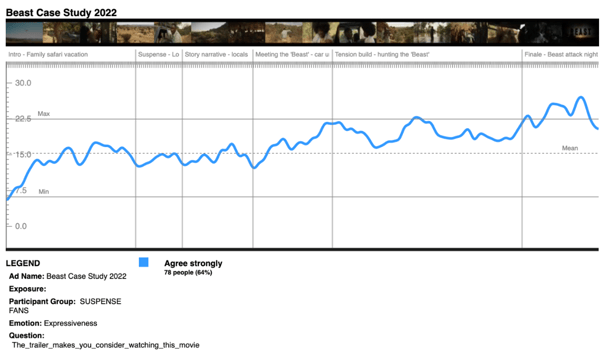 In our case study for Beast, a thriller film, the traceline shows expressiveness for the majority group. During the tension building sequence Suspense Fans, a target audience, expressiveness creeps towards the max line. It finally tops off at the end when the name is revealed. The strong emotional reaction to content on screen may influence participants "strongly agree" answer response. For filmmakers, the norm lines may support the case on which trailer cut is better for their intended market.
The screen recorder tool help clients extract more data out of our technology. It allows recording and playback of a singular video. Before clients needed a third-party application. Now clients record within the platform, which is a great example of building to solve client pain points. The revamped user-interface supports deeper reporting capabilities, including the introduction of tagging, grouping, and numerous other useful visualization tools. We even built a new multi-media comparison tool so that clients can simultaneously playback multiple media files at once. All these features make it easier for anyone to understand the data being generated by our AI technology.
Looking Ahead:

Our Platform's Enhanced Automated Insights and Data Visualization Capabilities
Our new platform has a variety of benefits. We have better automated insights and enhanced our data visualization capabilities, all while keeping a human-in-the-loop. A crucial part of our analysis is the cultural and contextual understanding that our end users bring to the table.
Furthermore, we are helping our clients tell more compelling stories with our data by simplifying complex technology. Creating an inviting user experience allows anyone to interact with the data we generate. In real time, clients can readily point out and understand key moments in their ads and crucial traces. Tough decisions like whether to proceed with a certain cut, target a certain demographic more, or push for digital platforms over traditional television become a breeze. While our technology is powerful sometimes the data itself is not compelling. Users can get lost. Powerful analysis tools cut through the noise and better support user needs.
The Bottom Line
At Affectiva, we strive to put people in the driver's seat of our technology. The power of Emotion AI is now faster and easier than ever to harness, regardless of your previous exposure to it. Through our SaaS portal, you can immediately understand human sentiment, and correlate it to moments shared within any media content. To start your journey in understanding how viewers respond to your content, please contact us to learn more or see a demo!