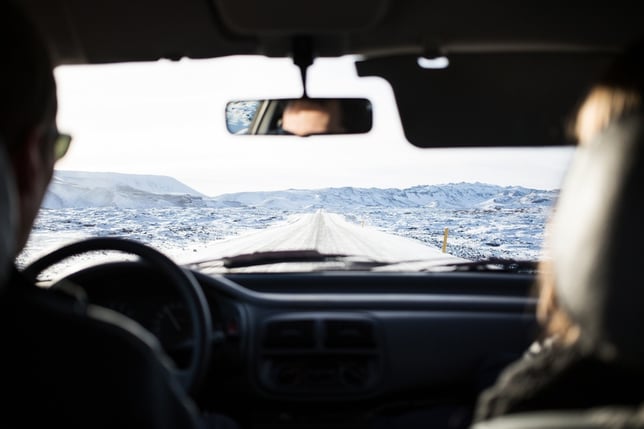 By Gabi Zijderveld, CMO, Affectiva
It's no secret that AI is causing a massive shake-up in the automotive industry. In recent years, discussions of AI in automotive have mostly pertained to the advancement of autonomous vehicles. In these cases, AI has played (and continues to play) a key role in the development of self-driving systems that allow cars to orient their position on the road, and recognize other vehicles and pedestrians around them – none of which would be possible without a series of complex deep learning algorithms, cameras, sensors, Lidar and massive amounts of training data.
But, while AI in automotive has historically focused on what's going on outside of the vehicle, we're beginning to see AI moving to the interior of the car. These use cases promise to augment the transportation experience for passengers and drivers in a range of ways, including improved safety capabilities, and a more comfortable, personalized in-cabin experience.
Earlier this month, major players in automotive, spanning OEMs, Tier 1s and auto technology providers, converged at the Consumer Electronics Show (CES) in Las Vegas, where we saw more examples of how AI is being applied inside cars. The Affectiva team was on the ground for lots of meetings with our automotive partners, in addition to speaking on a panel on the roadmap of self driving cars. Of course we were also there to check out the latest innovations and to show off some of our own technology.
Here are key trends we're seeing and hearing in terms of what's up next for AI in the auto industry:
1) Voice-based assistants are our new co-pilots
We're seeing an increasing number of automakers implementing in cabin AI in the form of voice-based virtual assistants. The desire for voice-based assistants reflects a shift in human machine interaction that we're seeing across the technology world. Increasingly, we want our interactions with technology and devices to be more relational and conversational – just the way humans communicate with each other – and cars are no exception. And make no mistake – auto manufacturers are taking note. With the popularity of systems like Amazon Alexa and Google Assistant/Google Home, auto makers are integrating Alexa and Google Assistant into infotainment, virtual assistants, and other IVR systems. All with the intent of improving the driving and in cabin experience.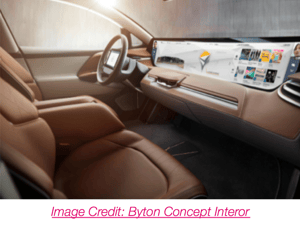 At CES, Byton, the electric-car startup, that is now looking to raise $400 million, showcased a concept car, which integrates Amazon Alexa for intelligent voice control. At its booth, Byton spoke of plans to make Alexa even smarter than it is today. Kia, Toyota and Hyundai have also made respective announcements regarding voice-based AI assistants over the last month, with Toyota using Amazon Alexa, and Kia incorporating Google Assistant.
AI is crucial for optimizing the in-cabin experience, and the addition of voice-based AI assistants is just one example of what's possible.
2) Driver Monitoring Systems need AI
We've seen a lot of interest in applying AI to address safety concerns on the road. Undoubtedly, AI has the potential to help the automotive industry tackle some of its most pressing challenges, such as drowsy or distracted driving.
At CES, we saw a number of demos and prototypes of computer-vision based driver monitoring systems that do just that: detect signs of drowsiness and distraction. These systems – though still in their early days – use in cabin cameras to track a driver's head pose and eye gaze, to determine if the driver has their eyes on or off the road. These are hardly sophisticated AI systems at this point, but we believe that this is an area that is worthy of much attention and ongoing advancements. Driver monitoring systems that are critical to road safety need to be able look at more complex human states beyond what's possible today, and with the utmost accuracy, which is only possible with the help of AI.
This is a challenge we're actively working to solve at Affectiva, so stay tuned for more from us on that front in the coming months.
3) Emotion AI humanizes the HMI experience
When thinking about improving the in-cabin experience, AI – and Emotion AI in particular – can also be used to monitor the moods and reactions of occupants of a vehicle. This is especially pertinent as we look to the future of self-driving cars, as this kind of in cabin monitoring with AI can help gauge people's comfort and trust level in autonomous vehicles. In cabin AI can make time spent in cars more productive and entertaining, as people spend less time actually operating the vehicle.
This is another area where we're applying Affectiva's technology. In fact, at CES, Autoliv, the worldwide leader in automotive safety systems, debuted its Learning Intelligent Vehicle (LIV) 2.0, equipped with Affectiva's Emotion AI. LIV 2.0 is a "5th occupant in the vehicle," capable of sensing driver and passenger reactions and moods, and interacting with human occupants, in order to improve the in-cabin experience, and crucially, establish trust between people and autonomous cars.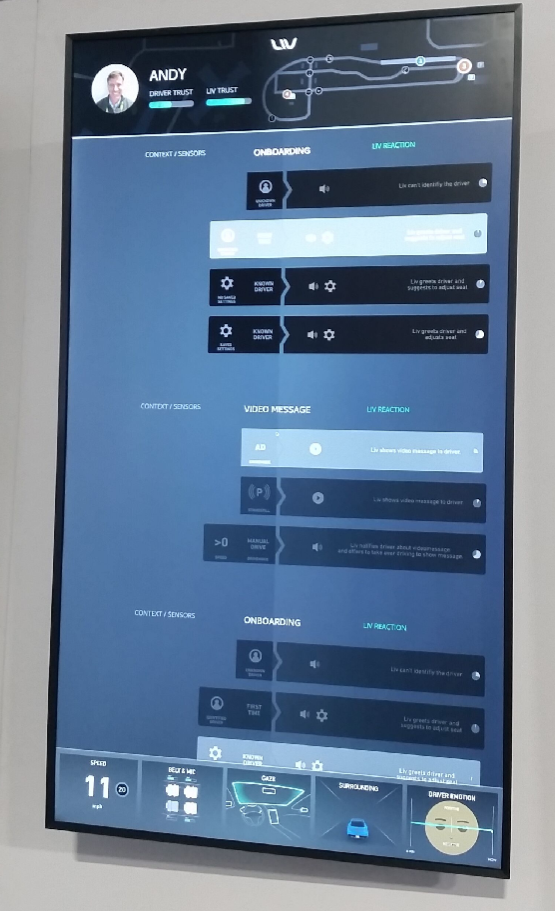 This is just a preview of the challenges that LIV's platform will help to solve when it comes to making self-driving cars a reality, answering questions such as, "under what unique circumstances will a driver need to assert control?" Or, "how should a smart car interact with people who are occupied with entertainment or other mobility experiences?" We look forward to working with Autoliv to help answer these and more of the industry's most pressing challenges.
With the help of AI, cars are becoming so much more than just a mode of transportation, and these trends and advancements are just the beginning. We're excited to be at the forefront of this movement, helping to shape the future of AI and the automotive industry in the months and years to come.
Interested in learning more about the importance of driver state monitoring? Access the Future of Mobility Webcast recording here, "The Future of Mobility: Trends and Opportunities for the Next Generation of Vehicles."