We are delighted to announce that longtime partner Brain Power has officially launched its pre-order and fundraising campaign on IndieGoGo. After years of deeply scientific and technical work, as well as including autistic people both in their product clinical trials and as employees at Brain Power, the system is now available for purchase starting today.
We spoke to Brain Power CEO, Dr. Ned T. Sahin, who discussed what this launch means for Brain Power, who their product can help, and how families can (finally!) access this groundbreaking autism support product.
Background: About Brain Power
The Brain Power System is the World's First Augmented Reality, Smartglasses-based System for autism. It is designed to empower children and adults with autism to teach themselves crucial social, emotional, and cognitive skills.
Brain Power is a science-based neurotechnology company with a mission to build transformative technologies for children and adults with autism. This award-winning technology has been heralded as a game-changer, and vital to addressing the critical therapeutic shortages that face the 1 in 68 children, and the over 3.5 million Americans, with autism.
How it Works
The Brain Power Autism System (BPAS-4) is a digital coach that runs on smart glasses, such as Google Glass, to empower people with autism to teach themselves social and cognitive skills. Unlike other social- and emotion-learning apps in which people are looking down at a tablet or phone, the BPAS-4 encourages social interaction with others, keeping people heads-up, hands-free, and engaged with their family and the world.
Brain Power + Affectiva's Emotion Recognition Technology
The Brain Power System consists of a family of applications, focused on helping with a wide range of issues including emotion recognition, eye contact, self-control, and educational planning. One critical area of focus has been the development of applications to aid in emotion recognition and understanding, an area of identified need in many children and adults with autism. Affectiva's emotion recognition technology is a vital component in helping to power the emotion analysis algorithms of the Brain Power System, helping to accurately characterize facial expressions and body language into emotional categories in real time.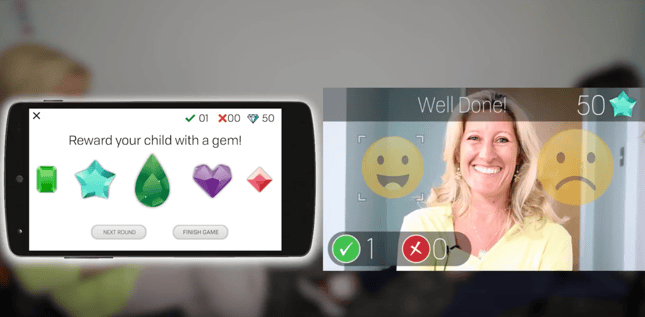 Brain Power and Affectiva teams have been working closely across multiple areas since early 2016, leveraging the latest versions of Affectiva's emotion recognition SDK to continuously develop and refine the emotion-based applications in the Brain Power System. The synergy between the scientific and research teams at Brain Power and Affectiva has been immense, with both organizations being heavily influenced by their MIT and Harvard roots.
Today is launch day! What does it mean?
After years of research and development, rigorous product and clinical testing, and acceptance by families and practitioners, the BPAS-4 is available today for order in limited quantities - as Brain Power announced in their press release today. Customers who wish to purchase the first available systems at a discount can pre-order through Brain Power's Indiegogo campaign, which launched today, here.
Get involved! How can you help? There are 2 ways:
Pre-order now. You can finally purchase the system for a family member, friend or loved one through pre-order on the Brain Power campaign page.
Pledge your support

. A great fundraising opportunity for the holidays, their page also outlines how your contribution will specifically apply to the Brain Power organization. For example, Brain Power employs autistic individuals, and by endowing a job there, you are able to assure employment of someone on the spectrum.
Please visit the long-awaited Brain Power launch campaign page to help make their message, product, and vision a reality!