Our partners at Cloverleaf are focused on bringing the best parts of the online shopping experience to bricks and mortar. With their product shelfPoint™, they have developed the industry's first dynamic shelf solution with built-in emotional artificial intelligence (Emotion AI) capabilities powered by Affectiva. shelfPoint allows retailers and brands to replace stagnant cardboard marketing materials and layered sticker price tags with an innovative and intelligent solution that provides the same level of shopping behavior analytics as many leading e-commerce platforms.
Just last month, Cloverleaf was recognized by Gartner in their list of "Cool Vendors" in the May 2017 edition of Consumer Goods Manufacturing. The report recognizes Cloverleaf for using an engaging LCD display mounted across the store shelf to attract, engage and convert shoppers.
We had the opportunity to speak with Gordon Davidson, CEO of Cloverleaf, to better understand the technology, how it was developed and where it can go to continue to surprise and delight shoppers at the moment of decision at the shelf.
Background: From Malls to Cruise Ships to Stadiums
Cloverleaf's roots are in traditional digital signage – offering digital menu boards for McDonald's, digital signage and way-finding for Simon malls. Their first toehold in AI was solving cruise lines' need to find a better way for guests to find and buy pictures of their cruise experience. Cloverleaf developed a digital solution that used facial recognition to match guests with their pictures, so they could easily browse and select their pictures, saving guests' time, increasing the average purchase and reducing costs by eliminating printing.
Cloverleaf expanded into large format LED screens to support their move into sports and entertainment venues. They provided all the signage for stadiums like the Patriot's Gillette stadium, Redskins FedEx Field, and Cincinnati Reds Ballpark. This included scoreboards, concessions and the ribbon boards around the bowl of the stadiums that supports fan engagement. It included the curation and presentation of social media during the games.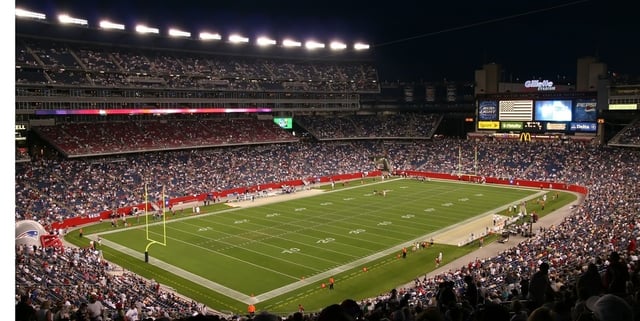 It was at a Patriot's game that Gordon and his colleagues asked the question "Wouldn't it be cool if we could miniaturize the ribbon boards and put them onto retail store shelves to engage shoppers every day?" Rather than looking at poorly placed signage, the shelf is where shoppers are looking and is underutilized and stagnant.
The company spent the next two years leveraging all its experience from malls, fast food, cruise lines and stadiums to define how to stop, engage and convert shoppers at the shelf edge. The early solution demonstrated an average +37% sales uplift in its initial pilots in the grocery channel. Then Cloverleaf took it one step further and integrated optical sensors to anonymously capture shopper behavior, demographics and emotional response to the messaging at the shelf.
Cloverleaf announced this final product at NRF this year - and it works.
The Challenge: Illuminating the Customer Journey for Brick and Mortar
There's a big fear today that online shopping is replacing brick and mortar. People look at the strength of Amazon and are predicting the demise of stores. But in fact, over 80% sales happen in brick and mortar stores - and that's not going away anytime soon.

There are certainly advantages to online shops for retailers as well - retailers can know their customers and their shopping behaviors. They know who you are, have information on when you signed up, what you put into your cart, what you didn't buy, your purchase history, and more. Today, brick and mortar retailers do not have visibility to know what the shopper's journey is. They know a shopper entered the store and they know what he or she purchased at check out if he/she presented a loyalty card. They do not know what a shopper picked up, put back, or looked at.
The obvious challenge is how brick and mortar stores can obtain the same level of insight as Amazon: how can they understand the customer journey from the moment they entered the store, what they looked like from a demographic perspective, then bring those insights back to the retail chain and at the individual brand level. Understand what shoppers are doing, what they like and don't like. The process must be passive, the consumer or shopper shouldn't have to subscribe, or do anything different than what they already do today.
The Solution: Emotion Recognition in Attribution
Cloverleaf looked for what they could do to leapfrog into this market, beyond digital signage and price tags. "Affectiva helps make the shelfPoint solution stand out with Emotion AI," said Gordon. "Affectiva is powerful as its emotion recognition SDK provides real time feedback, which is critical to insuring the most compelling messaging at the shelf and longer term the ability to serve up content based on specific demographics. Additionally, the architecture mimicked what shelfPoint was doing already, which made it easy to integrate. Affectiva was also easy to work with and provided tremendous support."
Emotion recognition is one of the biggest advantages to shelfPoint, which is providing a level of insight that doesn't exist today. It's a key answer to the question "why" and emotion is one piece of that puzzle.
For example, for a brand like Coca Cola or Pepsi - let's say they all of a sudden see a 20% sales uplift in a store one day. First, they are really excited about uplift. Second, why did they get it and how do they get it again? Was it due to the fact that it was hot outside that day and people wanted a cold beverage? Was it brand messaging? Was a competitor out of stock so they were the only option to purchase?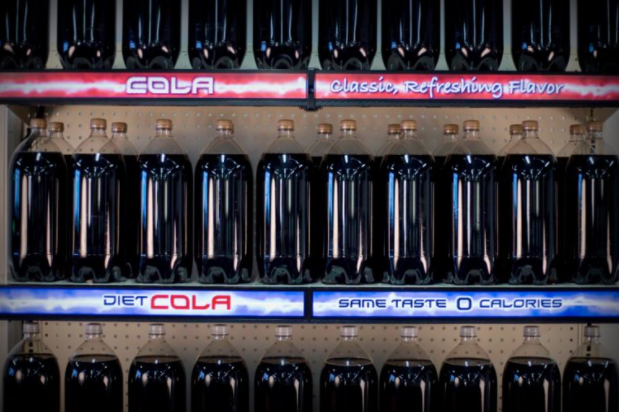 ShelfPoint focuses on the content – what messages attract, engage and convert shoppers. Cloverleaf provides the ability for extensive A/B testing; promoting the same product but with different messages (A/B) and then compare the results. The combination of emotional AI and demographics provides real actionable insight to optimize the marketing message for brands and to optimize sales for both brands and retailers.
This ever-evasive level of attribution is what shelfPoint makes available to brands and retailers. The solution can demonstrate how much joy shoppers are experiencing, and correlate that back to sales - with the assumption that if a lift in sales is experienced, people typically show more happiness rather than contempt. Back to the soda example, Pepsi can look at what the levels of joy, surprise, anger, disgust, and how these emotions relate to demographics. If the brand designed a new product targeting women aged 24-35, they can examine that segment and see what kind of emotional response it is getting: is my target emotionally engaging with this messaging?
How it Works
ShelfPoint runs content on a typical store end cap shelving unit, which has 3-4 shelves each equipped with a digital display on the shelf edge where price tags are typically placed. The initial content is one message across all shelves (think of watching TV through a venetian blind). The content is designed to get you to turn your head with simple messaging and graphics, such as the brand name "Pepsi" with animated bubbles to capture shopper attention. Once a shopper is engaged, the content then changes to be more product-specific, and shelf-specific including pricing information.
Over time, triggers can be setup based on emotional response, to change content. For example, if shelfPoint is registering a frown or detecting disgust, the application could change content to a message associated with a positive shopper response. Longer term, brands will have the capability to change content based on specific consumer targets – millennial males for example.
The Barriers: Adoption and Scale
ShelfPoint can deliver mass customization. The Company has spent a lot of time on what shelfPoint can do and what shelfPoint should do. There is a fine line between engaging shoppers and perceived "big brother is watching." Therefore, Cloverleaf is pursuing a
"crawl-walk-run" strategy, to surprise and delight and not overwhelm shoppers. This is key to rapid retailer, brand and shopper adoption. Cloverleaf is methodically rolling out pilot programs to optimize the shopper experience.
The Future of Retail
There has been a lot of tech thrown into retail, and most of it has had limited success. The reason all boils down to scale - the business case often doesn't work or doesn't work very well (i.e., beacons), or the technology is designed to deliver operational efficiency. Retail operates on skinny margins, so they are focused on removing costs. For example, digital price tags are available and designed to remove the labor costs associated with making price changes at the shelf. If a store has 40k SKUs – at $2 per digital tag, a single store would need an $80k investment for initial deployment. Moreover, the reduction in labor is not realized until 100% of the store is equipped. This is why retail has not rushed to expand this technology.
Cloverleaf is dedicated to using technology to drive measurable sales uplift. shelfPoint's early pilots have demonstrated significant double digit sales uplift that support an attractive rate of return. Moreover, the company recommends selective deployment of the technology, 10-15% of retail end cap displays. The future of brick and mortar shopping is illuminating retail with better and new sources of shopper insights, timely feedback of promotional campaigns, higher rates of compliance with point of sale promotions, and greater rates of shopper conversion, all designed to drive retail sales and enhance the shopper experience.

About Cloverleaf
Cloverleaf is a retail technology company for the modern brick-and-mortar marketer and merchandiser. Drawing on our background working with professional sport stadiums and leading hospitality services for nearly 10 years, we have a deep understanding of how to help companies provide exceptional experiences that excite their customers.
Today, we enable retailers and consumer products companies to deliver the engaging digital experience that today's shopper has come to expect. Major stores and brands use us to gain real-time insight and visibility into customer preferences to make better decisions and increase sales. For more information about Cloverleaf, please visit http://www.cloverleaf.info/.
We recently featured Gordon on a live webcast, "The Next Generation in Retail: Emotion AI" Read more and watch the recording by visiting our events page below!