Many of us spend time every day in our cars, and so the extensive technological changes taking place with how we navigate our vehicles are deeply personal. Self-driving cars, automated driver-assist features, and enhanced connectivity are leading an explosion of change in our in-cabin experience—all fueled by AI.
It's a new automotive frontier, but how can we achieve real trust in AI?
Join us at the 2018 Emotion AI Summit, which will include a special exploration into the future of the automotive experience and how our relationship with our cars is about to change:
AUTOMOTIVE PANEL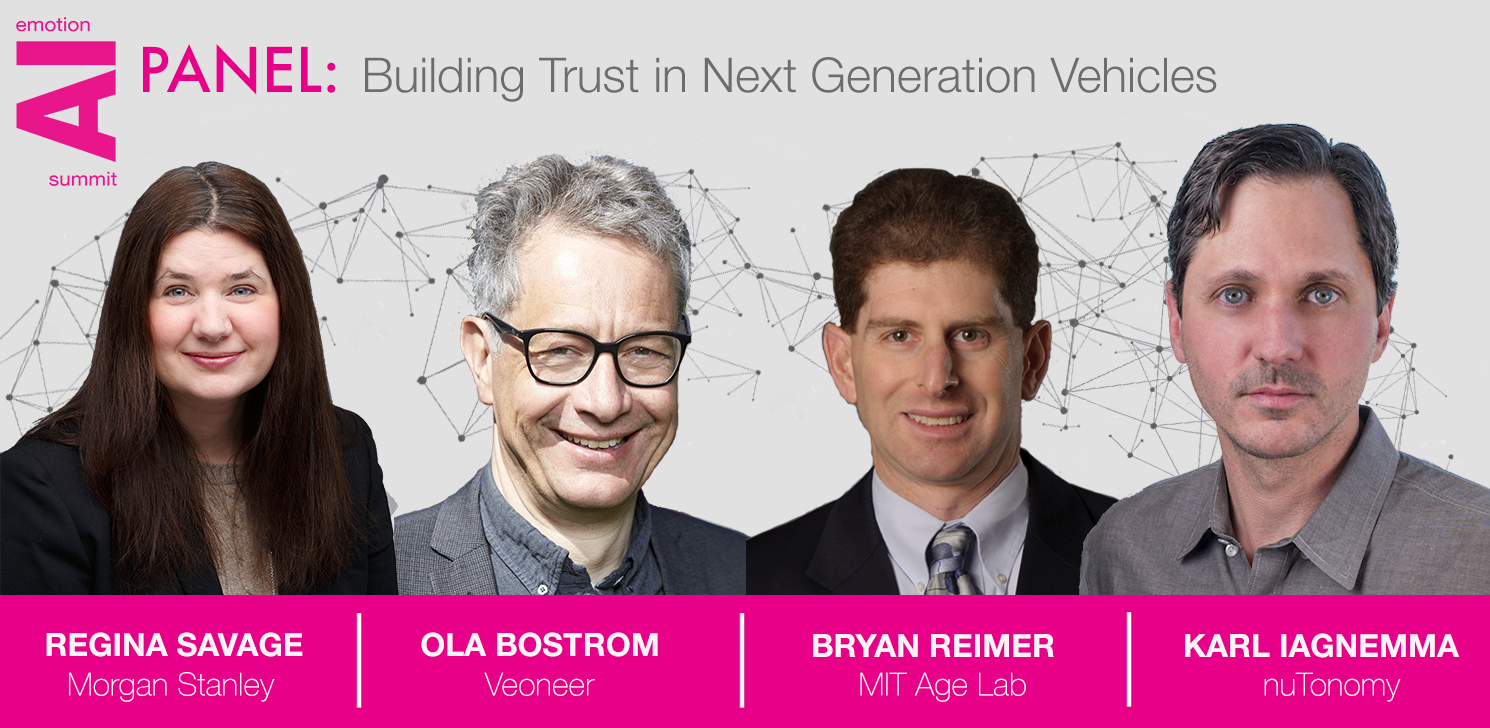 Building Trust in Next Generation Vehicles
Moderator: Regina Savage, Managing Director, Morgan Stanley
Panelists:
Karl Iagnemma, PhD, President & Co-Founder at nuTonomy (recently acquired by Aptiv)

Ola Bostrom, PhD, Vice President Research & Patents at Veoneer

Bryan Reimer, PhD, Research Scientist at the MIT AgeLab, Associate Director at the New England University Transportation Center
DEMOS
The exhibit area will feature hands-on demos, including Affectiva's car simulator, which shows how we can measure in real time driver drowsiness, distraction and your emotional state.
WORKSHOPS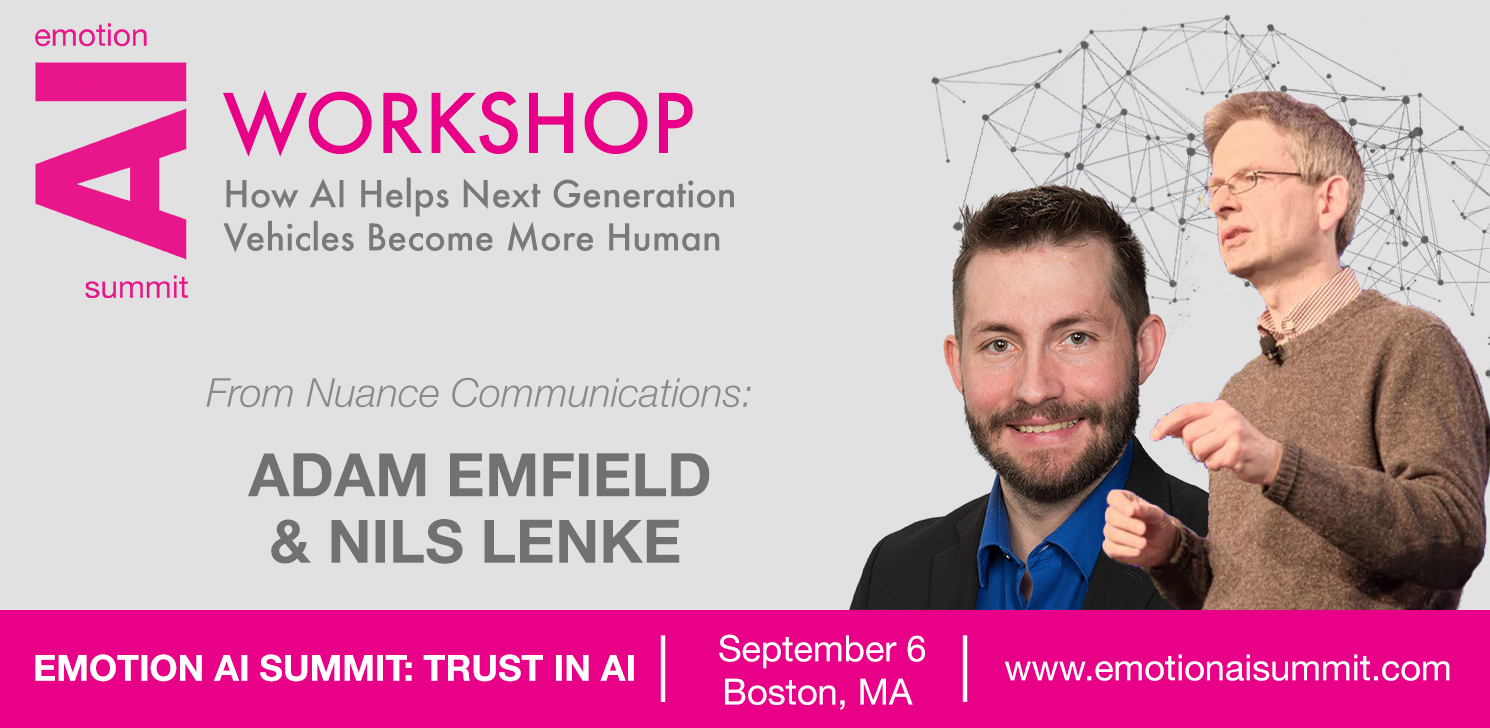 How AI Helps Next Generation Vehicles Become More Human
Nils Lenke, PhD, Senior Director Innovation Management at Nuance Communications

Adam Emfield, Principal UX Manager at Nuance Communications
Dr. Nils Lenke and Adam Emfield of Nuance Communications will explore two areas of improvements in communication between humans and our vehicles. The first is how multi-modality (combining visual and auditory expressions) is a key feature of all human communication, and how these capabilities can be re-built with technology. Second, Nils and Adam will discuss how a whole dimension of this communication is still missing—that is, the emotional state of a speaker being expressed by non-verbal signals. So how will we be able to know the emotional states of drivers and passengers? And how will the systems themselves express emotions?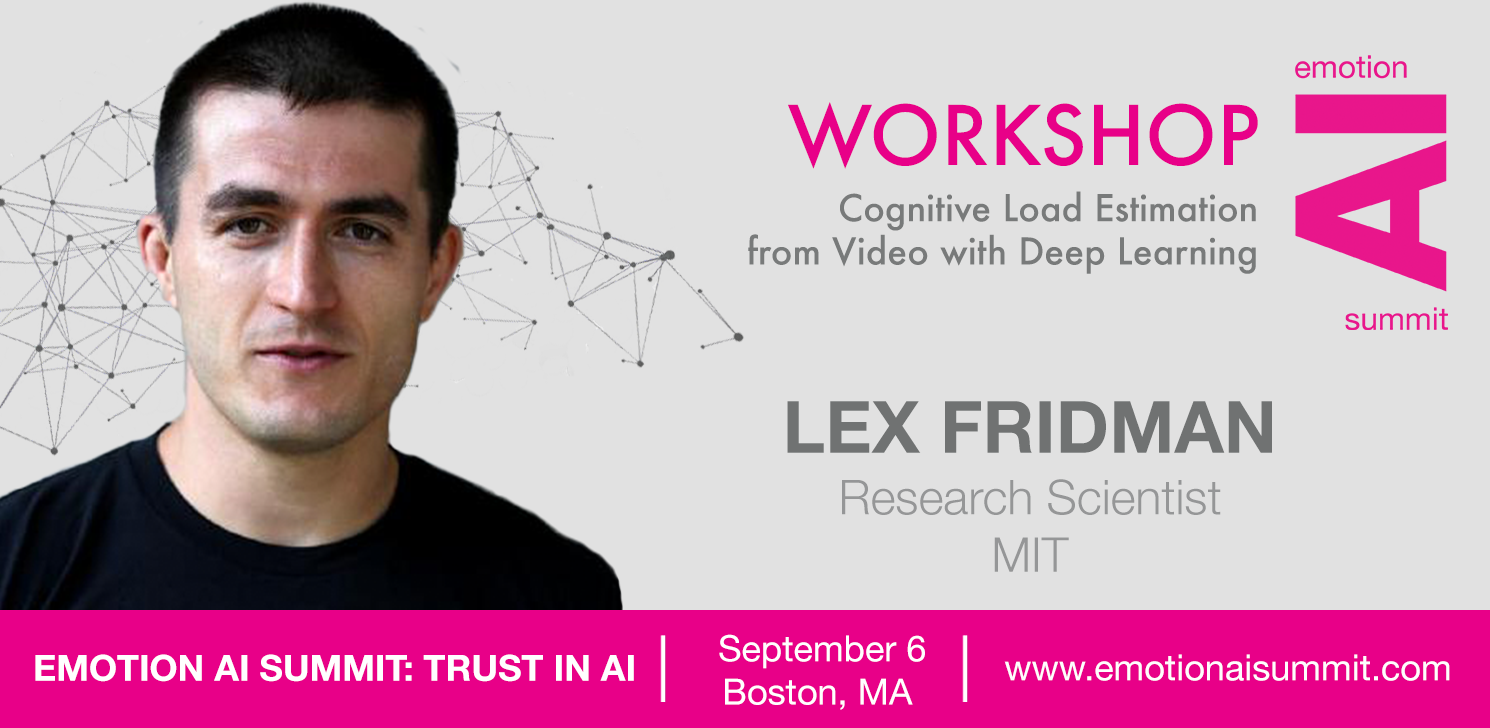 Cognitive Load Estimation from Video with Deep Learning
Lex Fridman, PhD, Research Scientist at MIT
This talk will explore how deep learning approaches can be used for perceiving and estimating a person's cognitive load from video of their face. We will discuss why this is an important and useful metric for multiple applications, but especially in the context of semi-autonomous driving.