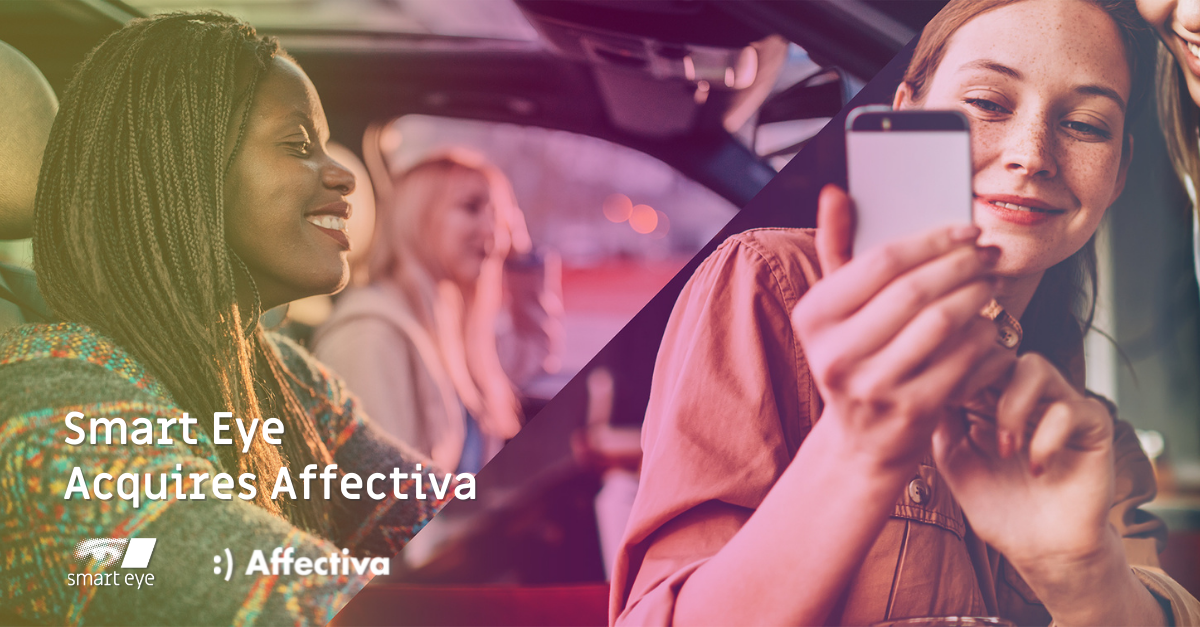 It's a monumental day for us here at Affectiva, and an exciting one for anyone who believes in our mission to humanize technology. Today, we announced that we have entered into an agreement under which Smart Eye, the global leader in eye tracking and driver monitoring systems, will acquire Affectiva!
We are thrilled to join forces with Smart Eye, as our two companies combined will form a global AI powerhouse. By merging our highly skilled teams and industry-leading technologies, we'll bring to market unmatched AI solutions for the automotive industry, media analytics and beyond—better and faster than any of our competitors can.
Read on to learn more about our amazing synergies with Smart Eye, our shared vision, and the opportunities we see to humanize technology together.
About Smart Eye
Headquartered in Gothenburg, Sweden, Smart Eye was founded by CEO Martin Krantz and his father Mats Krantz more than two decades ago, with a mission to bridge the gap between human and machine.
Smart Eye's commitment to saving lives with high-quality technology has made them a preferred provider of automotive-grade driver monitoring systems (DMS), as proven by 84 production contracts with 12 of the 20 largest global OEMs. Additionally, their Research Instruments division develops high fidelity eye tracking systems to analyze human behavior in the world's most demanding industries, ranging from aerospace and aviation to neuroscience.
How Our Journey with Smart Eye Began
At Affectiva, we've spent the last several years broadening our technology to automotive in-cabin sensing, using machine learning, computer vision and massive amounts of data to understand what's happening with people inside a vehicle. From the moment we began working in this space, Smart Eye consistently topped our competitive analyses as a leading player to watch. As the definitive leader in DMS, we knew Smart Eye would eventually expand their technology to deliver broader Interior Sensing capabilities that would focus on understanding the state of the driver, the cabin and the occupants in it.
While we always held great respect for Smart Eye—they are an expert team building amazing technology— we were seemingly destined to become fierce competitors. It was not until CES 2019 that we began to see other, more compelling possibilities on the horizon. That year in Las Vegas, we had really good conversations with the Smart Eye executive team where we discovered just how synergistic our two technologies were, and began thinking about what a collaboration might look like. Instead of continuing on a path to compete, what if we found a way to work together?
These conversations continued and eventually evolved into discussions around Smart Eye acquiring Affectiva. We realized that together, we would be best positioned to become the definitive market leader in the rapidly emerging Interior Sensing space, projected to become a multi-billion dollar industry.
What Affectiva Brings to the Table
Affectiva has a lot to offer Smart Eye. In the 10+ years since Affectiva was founded, we have developed exceptional machine learning, computer vision, and data acquisition & annotation expertise. We have built massive data repositories that we use to train and test our machine learning algorithms, and we have developed a robust IP portfolio with 40 patents issued and applicability across industries. All of this is incredibly important to and compelling for Smart Eye, as they too value themselves as a company on the forefront of innovation and human-centric technologies.
With this acquisition, Smart Eye also gains our industry-leading Media Analytics business and its significant incremental revenues and profit. We've been in-market with commercial products for media analytics for more than a decade, and today our technology is used by 28% of the Fortune Global 500 and 70% of the world's largest advertisers.
In addition, we will explore the synergies between Affectiva's Media Analytics business and Smart Eye's Research Instruments division. Imagine what could be understood if our Emotion AI were combined with Smart Eye's eye tracking technology: this could generate a level of insight into human behaviors that has never been seen before!
The COVID-19 pandemic has also accelerated demand for virtual analysis, including online qual and consumer response to entertainment creative. This presents a huge opportunity for growth. Alongside Smart Eye, we are committed to growing this business and believe this acquisition will accelerate our roadmap for this space.
Celebrating the Next Chapter Together
The more we talked since those conversations at CES, the more a merger of our two companies made sense—from a tech perspective and from a culture and values perspective. Throughout this process, we have come to know the Smart Eye team and see so much of ourselves in how they operate and work toward their vision to bridge the gap between human and machine. Once the idea of acquisition came about, we started to ask "why not" instead of asking "why."
We truly feel that this acquisition does not signal an exit for Affectiva: It's the beginning of an exciting new chapter. We believe that one day, the human-centric AI we are building with Smart Eye will become an integral part of everyday life, everywhere. Together, we will achieve much more than we ever could alone. We can't wait to get started.