---
By: Affectiva staff
You don't need an Affdex classifier to see that the participants of Affectiva's premiere Emotion Lab hackathon enjoyed themselves! Unfortunately, all good things must come to a close, and so too has our hackathon.
The three-day event took place from March 4-6 at Microsoft's beautifully sunny, spacious Cambridge R&D venue, and was a wonderful experience for our volunteer and participant hackers alike.
Each team quickly found their own workspace, settled in and began quietly hacking away, building the future of emotion-aware tech. Participants used the Slack messaging platform to keep up with the event schedule and to ask questions about the Affdex SDKs, in addition to personal interactions with the roaming Affectiva staff. Many teams were wrapping up by Saturday evening, and joined the Affectiva team for drinks and discussion at Meadhall (some even continued to hack at the bar).
The weekend-long event certainly exceeded our expectations. The structure of the event flowed as planned, and we were blown away by the amazing hacks that were created. The final team pitches were the culmination of efforts from 58 wonderful people who incorporated their talents along with emotion-aware AI technology and interesting IoT devices to prototype so many innovative creations.
Our judging board consisted of Dr. Cynthia Breazeal (Founder and Chief Scientist of Jibo, Inc; Associate Professor, MIT Media Lab, Personal Robots Group), Steve McLean (President and founding partner of Wild Blue Technologies), JP Nauseef (President and Managing Director Myrian Capital, Chairman Krush Technologies), Bianca Meger (Director of Marketing at Beyond Verbal), and Danny Crichton (Investor at Charles River Ventures). Teams in order of presentation:
1) Good Vibes (Alejandro Mera, Ari Stisser, Avneet Kaur, Bernard Herrera, Diana Cao and Dot Lucci) – Android app using technology from Affectiva, BeyondVerbal, and Pavlok to help people on the Autism spectrum with interpersonal relationships.
2) [Hackbar] InPulse(Ariele Faber, Audrey Fox, Daniel Stair, Jesus Armand, Maclyn Brandwein and Maneesh Sethi) – Mood tracking Android app integrated with Pavlock and Instagram.
3) The Emotion Enabled Web (Chris Kwan, Christina Kayastha and Don Greyson Griffin) – Browser based extensions utilizing REST API to measure emotions from images and use the Pavlok to modify behavior.
4) Blind Emotion Aid(Amirali Shambayati, Mehrnoosh Sameki, Samaneh Kazemi and Sarah Adel Bargal) – Google Glass app to bring emotion recognition to those who are visually impaired.
5) Murderous Llamas(Cait Stuff, Dermot Duncan, Frank O'Connor and John Doyle) – Humorous labyrinth game utilizing expressions as a means of control as well as altering the environment.
6) Candidate (Colby Sato, Kat Nguyen, Tom Eldridge, Tom Guarriello and Philip Lloyd) – Emotional analysis of job candidates' videos to improve hiring decisions.
7) [Wait For It] Super TA (Abi Dawson, Amanda Ludden, Jonathan Foster, Maria Lauring, Matt Benson and Tomo Lazovich) – Mobile App that uses BB-8 to provide real-time feedback mechanism for teachers to assess student comprehension and attention.
8) Feel4Life(Annie Tuan, Skyler Lauren and Steven Vannoy) – Suicide prevention app using Affectiva's SDK and BeyondVerbal's API.
9) Deckard(Akshay Jain, Brian Fife, Deepak Awari and Margot Lhommet) – Recreation of the classic "Voight-Kampff" test from the science fiction film Blade Runner, which used a series of questions to determine whether the interviewee was human or non-human.
10) Presidential Analysis(Alexis Chan and Chun-Yu Shei) – Moment by moment analysis and visualization of expressions from YouTube videos featuring presidential candidates during debates.
While everyone who attended and participated in the ten teams was equally successful integrating our emotion sensing software into their awesome projects, we did award prizes based on the judges' scoring of three distinct categories:
Most Creative or Innovative Use of Emotion Sensing Technology
Most Business Potential
Best User Experience
Drum roll, please…
And the winners are:
MOST CREATIVE OR INNOVATIVE USE OF EMOTION SENSING TECHNOLOGY:
Team Wait4It / Super TA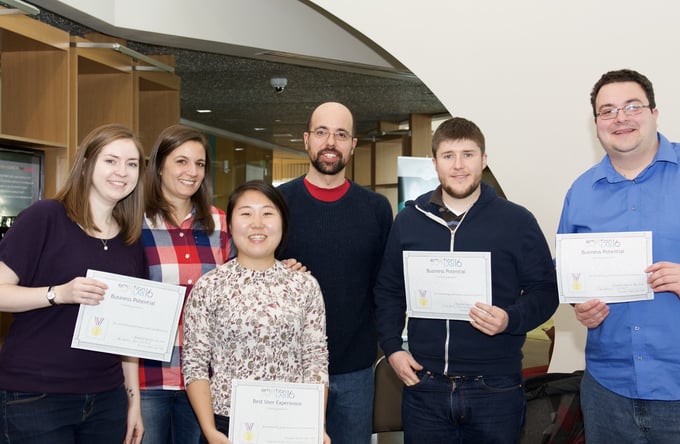 [pictured from left to right] Abi Dawson, Maria Lauring, Amanda Ludden, Jonathan Foster, Matt Benson and Tomo Lazovich
MOST BUSINESS POTENTIAL:
The Emotion Enabled Web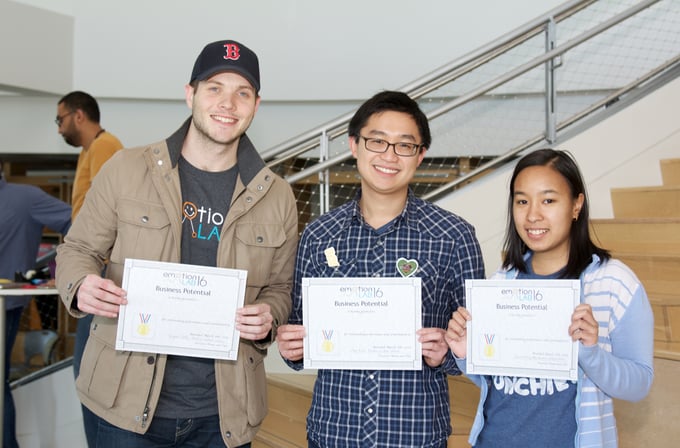 [pictured from left to right] Don Greyson Griffon, Chris Kwan, and Christina Kayastha
BEST USER EXPERIENCE:
Murderous Llamas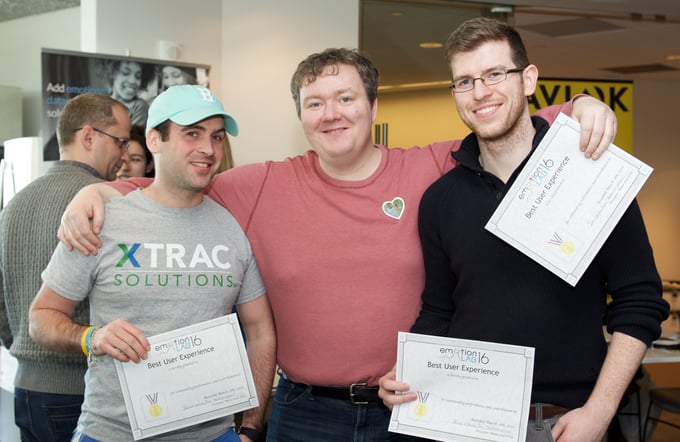 [pictured from left to right] Dermot Duncan, John Doyle, Frank O'Connor and Cait Stuff (not pictured)
Once again we would like to extend a huge thank you to our judges and sponsors, Beyond Verbal, Pavlok, Brain Power and Wild Blue Technologies, for all their contributions, as well as our sincerest gratitude to the Microsoft New England Research and Development Center for providing the venue for our Emotion Lab '16 Hackathon.
Congratulations to the winning teams, and well-done to all participants for seeing such a variety of ideas through to fruition in such a short period of time. This has truly been awonderful experience. We enjoyed meeting every single participant and look forward to many more events like this in the future!