We are pioneers in Artificial Intelligence. We are on a mission to humanize digital interactions by building artificial emotional intelligence, or Emotion AI. This year, we launched Affectiva Automotive AI - the first multi-modal in-cabin sensing AI that identifies, from face and voice, complex and nuanced emotional and cognitive states of drivers and passengers. This helps improve road safety and the transportation experience.
Gabi Zijderveld, CMO of Affectiva, was recently featured on the Renegade podcast to discuss her background and Affectiva's role in creating the category of Emotion AI.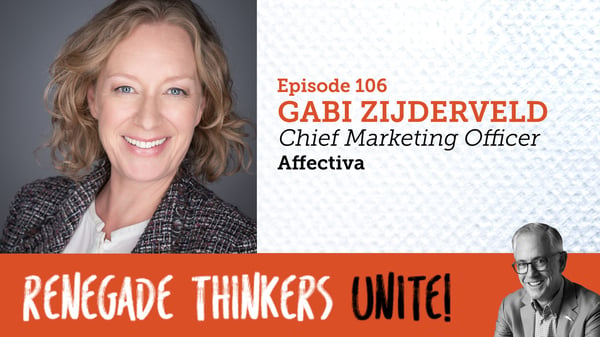 Executive Spotlight: Gabi Zijderveld
Gabi is our Chief Marketing Officer at Affectiva. She created the new technology category of Emotion AI and positioned Affectiva to dominate this space with a successful marketing strategy, including high volume press coverage to drive industry awareness. Gabi also leads our product strategy to deliver on our multi-modal vision. She has over 20 years of product management and international experience at leading tech companies including Dragon Systems and IBM.
Gabi's Background
Gabi Zijderveld is no stranger to pioneering new tech industries. As the CMO of Affectiva, she has helped to create an entirely new category in the tech industry: #EmotionAI. While emotional intelligence is not always fully understood, Gabi and her team at Affectiva have found a way to craft a narrative around Emotion AI that the tech world could not ignore. From the educational Emotion AI Summits to simple handwritten notes to supporters, Gabi has found the keys in paving a new frontier for smart technology.
On this podcast episode of Renegade Thinkers Unite, Gabi shares her nonlinear journey from art history to technology—and ultimately, to the CMO seat at Affectiva. Her drive to do something that had never been done before led to an innovative breakthrough for emotional intelligence. With the right strategies and priorities, Gabi proves that CMOs don't have to follow the leader—they can create whole new markets for their product.
Listen to the podcast here:
Join Us!
At Affectiva, we ultimately envision an emotion-aware world, redefining not only how we interact with technology but also how we connect and communicate with one another. Such an ambitious vision takes a great team with a strong desire to explore and innovate. We are always on the lookout for exceptional talent who can help build new artificial intelligence focused around sensing, understanding and adapting to human emotion. We invite you to join us on this uncharted, exciting territory of building Emotion AI. See our open positions here.