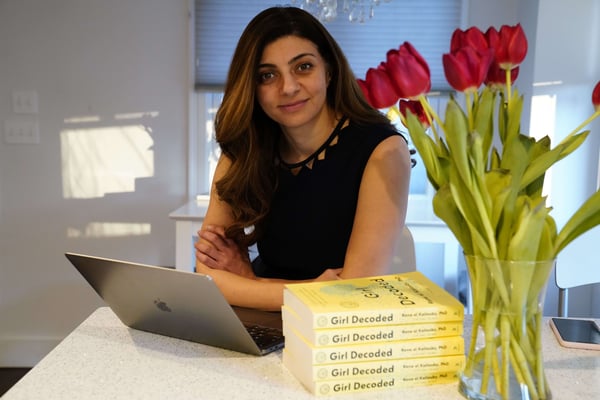 In a very special Affectiva Asks podcast episode, we featured Dr. Rana el Kaliouby, Co-Founder and CEO of Affectiva. Rana is also an AI thought leader, machine learning scientist, and now a published author. 4 years ago today, she became Affectiva's CEO, a journey that took a lot of courage; and a job that's been her biggest challenge but also the most rewarding.
During the interview, she talks about her background and personal journey co-founding Affectiva, her new book, Girl Decoded, which launched last month, and some of her personal stories around leadership.
What do you like best about leading our team at Affectiva?
I'm grateful for our team. We have an amazing talented team of people who are committed to our mission. I try to interview almost everybody we hire and one of the things I look for is passion; are they really excited about our mission the way I am and the way others at the company are? Because that ends up being an intrinsic motivator if you're excited about what we do.
Also the level of commitment and loyalty of our team is amazing.I feel like Affectiva is my third kid, and I treat everybody at Affectiva as if it's our extended family and that family culture is really important to me. I really care deeply about the team and I'm most proud not just seeing people grow professionally in their roles and take on more, but also personally seeing people grow their families and settle in, buy a house or whatever other major milestones they reach that matter to them. I love being part of people's personal journeys. It really makes me proud and it makes a lot of this worthwhile.
At Affectiva, we have been working from home for several weeks now. What have you been doing at Affectiva to keep company culture strong?
I would say we are fortunate as a team, in that we are mega users of technology, and a lot of us work on and off from home pre-COVID. We're used to being on Zoom calls and we're used to using Slack to communicate, but I would say we're using it differently now.
For example, our all hands-on meetings on Wednesday, we have about a 100 people join in via Zoom and we try to make it interactive. I often start by over-sharing something from my personal experience that I've had to struggle through and that just gives people a venue to share back and in my opinion, it's very powerful to do that. We've continued our weekly rock star nominations, which is our peer-based nominations for people who have exemplified Affectiva's core values: they get stuff done, they're lifelong learners, they have integrity, they value human connection, and they're flexible.
Then, we use Slack in fun ways—I think it's important to try and bring humor to all of this. We have the question of the day where somebody on our team Slacks everybody else a question and some of them (and their answers!) are really funny.
You have been pioneering Emotion AI for a long time. Often people still think this is a lab research project and they're surprised the tech is deployed commercially. Can you tell us about some of the use cases today that excite you the most?
You are absolutely right; people often think it's a very early technology and they're surprised to know that it's deployed around the world. We have a number of businesses that we're very focused on: one is media analytics. Our technology is used by 25% of the Fortune Global 500 companies, where we partner with market research companies to test their content, their online video advertising, and quantify the emotional connection their consumers have with their content. This product is deployed in 90 countries around the world and we have collected massive amounts of data trying to quantify this emotional connection consumers have with content. That product is revenue-generating and is in market.
We are also very focused on the automotive industry, bringing our technology to in-cabin sensing to help ensure that our roads are safer by monitoring drivers for things like drowsiness, fatigue or distraction. We are also focused on reimagining the future of transportation by thinking about the other occupants in the vehicle and their experience and personalizing that depending on how they're feeling. So, a lot of work in these two industries in particular and then supporting other use cases tangentially as well in other areas like in mental health and robotics.
For the full podcast interview, listen to the Affectiva Asks podcast (and don't forget to subscribe!)