By: Ashley McManus, Global Marketing Manager; featuring Cory Kidd, founder and CEO of Catalia Health
Medications save countless American lives. But the thing is, medications don't really work well if you don't take them. Medication adherence is critical to effective chronic disease management, yet many people find reasons not to stick to their prescriptions. These reasons vary from affordability, lack of understanding, to unpleasant side effects. (Source: CDC, "Overcoming Barriers to Medication Adherence for Chronic Diseases") While management of chronic conditions are difficult enough, what if there was a way to better engage patients on an emotional level - thereby increasing their likelihood of sticking to their prescription regimen? Catalia Health, the company behind the healthcare companion robot Mabu, is getting close.
Our emotion-sensing and analytics technology is transforming the healthcare industry, giving developers the tools to create more differentiated healthcare devices and provide patients with healthcare catered to their emotional needs. Mabu, a personal healthcare robot and Affectiva SDK user, was designed around this concept. The robot is the key to long-term patient engagement that evolves over time, using principles of behavioral psychology to tailor daily patient conversations to obtain hard-to-get data about treatment challenges. Catalia Health's Mabu has been featured in TechCrunch and The New York Times. Mabu is currently only available through your pharmacy or healthcare provider for ongoing programs, and at no cost to patients. To request participation in a pilot platform, you can contact them here.
We interviewed Dr. Cory Kidd, founder and CEO of Catalia Health, on how Mabu works, the process of developing it, and what he thinks is the future of emotion-enabled healthcare applications.
What's the pitch for Mabu?
Catalia Health is a patient care management company, with the focus on keeping patients out of the hospital and on therapies that have been prescribed by their doctor for longer periods of time.
The healthcare industry is driven by so many face-to-face meetings in order to keep patients engaged over time in managing their own health. Mabu adds to this experience — she is a companion robot — using psychology as the basis for everything that she is designed to do. This includes accounting for how people interact with one another, build relationships, and the emotional aspects these engagements all in one place - and Affectiva helps understand what's going on emotionally with patients a little bit better.
What does Mabu do and how does she work?
Mabu is a cute counter-top robot whose purpose is to create long-term engagement about a person's healthcare challenges through face-to-face interaction. Catalia Health brought in the award-winning design from IDEO to create the appearance of Mabu. However, the majority of her capabilities live in the software, where we set out to build and maintain a relationship with a patient over time. The way to do that, as with people, is through conversation.
Mabu uses AI algorithms to generate conversations in real time, understanding more about the patient with each interaction. Our technology builds up models in the background about each individual: we want to understand medically what's going on with this person, improve our model of their psychological state, and find out what is going on with them throughout their everyday life, and then put it all together to create a conversation right now. The goal is that conversation is targeted to the person's current needs and tie that into their longer health care goals.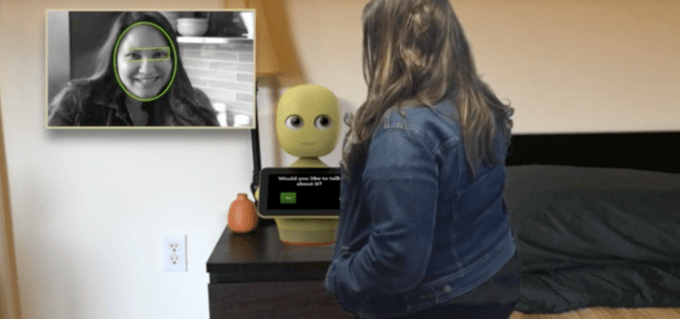 Where did you get the idea to build Mabu?
I've been working in health care technology for 20 years now. This included six and a half years completing my masters and Ph.D. at the MIT Media Lab, in AI and psychology applied to interactive robots. During the latter half of that period, I split my time between MIT and Boston University Medical Center working in the Nutrition and Weight Management Center with the doctors, nutritionists, and dietitians, include a lot of time seeing patients in the clinic. In my early studies, I focused on comparing and contrasting how people interact with robots versus with computers or with other people. Through this I found that using this type of interactive robotic interface was incredibly effective at creating long-term engagement. The goal was to drive behavior change and help many people with those types of challenges. The culmination of my academic work was a randomized controlled trial that showed the efficacy of this technology in the real world.
What was your process of turning this into a product?
Building the first version of this technology took several years and was about focusing on a few major pieces, including the AI algorithms and the psychology that drives nature of the conversations. That happened from around 2004 to 2007. Catalia Health is the second company I have started to commercialize this and make it available to many people. We started in late 2014 with a focus on chronic care management and medication adherence.
Building this company has also been about focusing on many different areas, with the product being just a part of that. The first was the team — finding and recruiting people with product, technical, healthcare, business, and sales expertise. Within our product team, about half have a more technical background: machine learning, AI, robotics, software, and hardware. The other half have diverse backgrounds — this includes former nurses, doctors, and a Hollywood screenwriter! This diversity lets us understand how to provide the support that patients need in order to reach their healthcare goals.
What role does emotion and emotion technology play in the concept of your robot?
The core of everything that Mabu does is from psychology and how we use that to develop an understanding of what is going on with a specific person at a specific point in time. We think about two major components of this: 1) things that will stay the same over time - such as their personality type, how do they best learn, whether they're open to trying out new things, and what the best approach to talk to them is. And 2) transient items - such as what's going on right at that moment, how to respond to what's being said, and how or whether to use humor. Affectiva comes in by contributing how to tailor our conversation to the patient based on their emotional responses.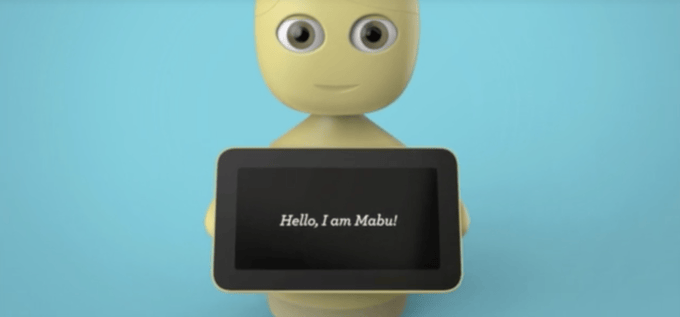 How did you arrive at Affectiva's technology to help achieve your vision?
I've personally known of Affectiva since before there was a company called Affectiva from when it was still a project at the MIT Media Lab. When I started looking at options for what to include in Mabu, I spoke with Rana since I knew her and evaluated the competition as well. In terms of commercial development and readiness, Affectiva was the furthest along, easiest to integrate, had the greatest number of features, and is ultimately the best fit for what we are trying to accomplish.
One specific example is when we use the SDK to help us right when Mabu comes out of the box. Our patients cover a broad spectrum depending on the disease state. In one application our patients tend to be women in their forties through sixties. In another it's mostly men over the age of seventy. With each of these individuals we needed to be able to tailor the conversation. In the first few minutes of conversation that a person has with Mabu, she'll work a corny joke in to the conversation. (And for the record, we found from our tests that these jokes are pretty funny!) Affectiva comes into play by reading the emotional reaction to the joke, then we can start to tailor a specific aspect of conversation content based on that. For example, if Mabu perceives a strong negative emotional response, Mabu will apologize and be a little more straight-laced for that person in the future.
How does emotion tech give Mabu a competitive edge?
There is not really much head-to-head competition in this space yet. Part of what we are thinking with this integrated technology is that we build out a complete product to be way out ahead of anyone before there is any competition. And the data that we gather through Mabu's many conversations with people, including the data gathered through the Affectiva SDK, helps us to build better AI and psychology models before anyone else can.
Affectiva contributes to one of those models, and gives us a strong understanding as we roll out to more patients. We are most excited about helping keep patients in therapy longer (that is, receiving the right treatment and adherence to the right medical plan for them) for whatever it is they are doing.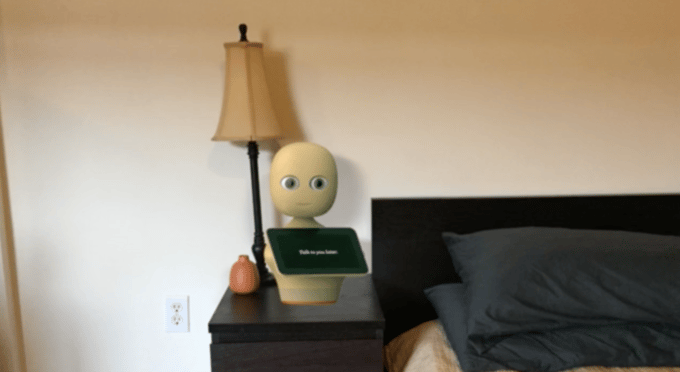 What do you see as the future of social robots?
I've been working with this type of technology for the better part of two decades now. This includes seeing thousands of people interacting with robots for short periods of time and many for much longer periods. There is sometimes still this cultural perception that the concept of robots are scary, but I've found that it's all about how you present them in a specific situation. Simple terminology changes like "coaches" or "healthcare companions" instead of "social robots" can go a long way in increasing acceptance. More broadly, we have also seen success so far for consumer robots in general are where they are really targeted at solving real problems — like how iRobot's Roomba is sold as a vacuum cleaner and not primarily as a robot. People want to buy things that solve real problems and Mabu is a piece of technology — that just happens to be a robot — that is focused on solving a clear problem.
How can someone try Mabu? Where can they get it?
Unfortunately, Mabu is not currently available for just anyone to purchase and bring home. Our current customers are mostly big pharma or large healthcare systems. Patients going home from the hospital with specific diagnoses or people taking certain drugs will be offered Mabu to help them manage their treatment, answer their questions, and send information back to their doctor or pharmacist. This may change in the future, but in the interim you can always contact us to submit a request participate in one of our tests and have an opportunity to try Mabu out and provide feedback to Catalia Health. As we expand Mabu's capabilities to include additional conditions, that list of people who can benefit from her will rapidly increase.
About Dr. Cory Kidd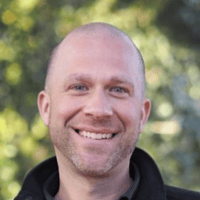 Dr. Cory Kidd is the founder and CEO of Catalia Health. Dr. Kidd has been working in healthcare technology for nearly two decades. The focus of his work has been applying innovative technologies towards solving large-scale healthcare challenges. His previous company, Intuitive Automata, created interactive coaches for weight loss. Prior to this, Dr. Kidd received his M.S. and Ph.D. at the MIT Media Lab in human-robot interaction. While there, he conducted studies that showed the psychological and clinical advantages of using a physical robot over screen-based interactions.