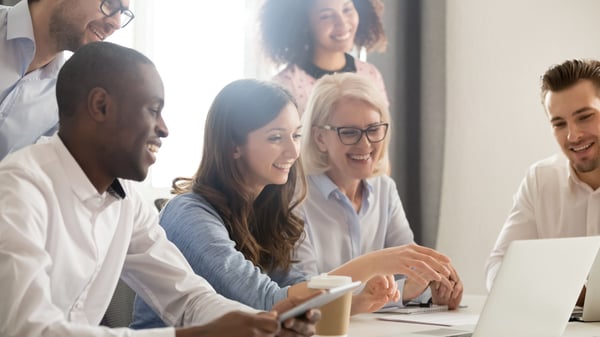 The mission of the Forum of Young Global Leaders (YGLs) of the World Economic Forum is to create a dynamic global community of exceptional people with the vision, courage and influence to drive positive change in the world. Affectiva Co-Founder and CEO Dr. Rana el Kaliouby is a YGL, and through the YGL Network, she was able to connect and team up with fellow YGL Ronit Avni, Founder & CEO of Localized. Rana and Ronit first met in April 2020 when the YGLs started hosting virtual salons during the global pandemic. The two of them immediately started brainstorming ideas on how to collaborate. This led them to realize their vision of advancing the next generation of AI leaders and innovators.
According to Recruiting Innovation, diversity in the technology industry has a long way to go. With regard to gender diversity, women's representation in tech-related jobs has actually declined since 1990: in a 2014-2016 study, they made up only about 25% of computer jobs (down from 32% in 1990). The percentage of black and LatinX employees at major tech companies is also especially low, making up just 1%-3% of the tech workforce.
Enter: A Virtual Student AI Education Program
In the past several years, the popular and inspirational intern program (EMPath) was born as a passion project of Dr. Rana el Kaliouby and Dr. Taniya Mishra, Affectiva's Director of AI Research. The global pandemic caused this to morph into a 5-week virtual AI education program with the goal of developing the next generation of AI leaders, who will build AI that is ethical and works for all of us. In order to achieve this, at Affectiva, we firmly believe that diversity fosters innovation. We have made a point of building a team that is not only diverse in age, gender and ethnicity, but also diverse in education and cultural backgrounds. In Rana's own words: "This program is near and dear to my heart. We vetted hundreds of applicants to land a diverse mix of student trainees and mentors. We then forged ahead with a virtual experience built on Localized. This innovative platform has enabled us to deliver an engaging online program focussed on accessibility, collaboration, education and mentoring."
From high school students to PhD candidates, the 53 trainees and 18 mentors hailed from all over the world and reflect this diversity—with skills not limited to computer science or machine learning. After a couple of weeks of self-paced learning, the program culminated in a makeathon, where students applied their learnings to develop an application of Emotion AI using their exclusive access to Affectiva's SDK.
EMPath 2020: Projects and Winners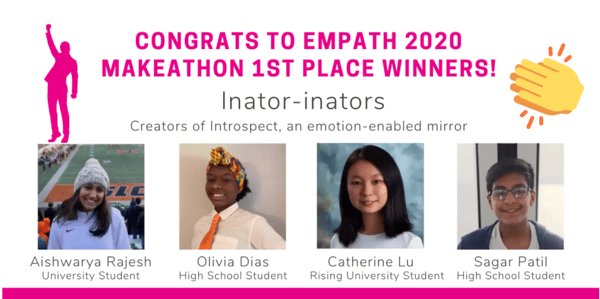 Over the course of a few weeks, the EMPath 2020 trainees split into teams and developed projects using Affectiva's Emotion AI for applications focused on automotive, IoT, videoconferencing, and telehealth. At the conclusion of the program, the trainees then presented their incredible work during the Makeathon Pitch Contest. In first place: Team Inator-inators developed a smart mirror that understands emotions in real time and converses with you. The second place team, Empath Titans, developed a Zoom plugin to help create better connections in videoconferencing events. The third place team created an emotion-enabled therapeutic platform to help children with learning disorders receive tele-therapy, and fourth place built an in-car music recommendation solution that responds to driver or passenger emotions.
All of this learning, ideation and creation wouldn't have been possible without the functionality the Localized platform provides to foster this amazing collaboration.
A YGL Collaboration: The Localized Platform Helps EMPath Connect the Dots
Localized strives to help the next generation build careers in the fields of the future. Localized does this on a global scale by partnering with schools and companies to connect young professionals in emerging markets with experts and employers looking for talent. Their platform is a powerful way to build these connections. "We believe in training for the future of work," Localized CEO Ronit Avni explains. "So often university coursework hasn't caught up to the technology and its applications. This virtual career community allows experts—also of diverse backgrounds and with a vested interest in increasing diversity themselves—to alert the students of skills gaps so students are able to orient themselves and educate for that gap."
The EMPath AI Education Program is realized on the Localized platform, giving students a place online to access custom developed AI coursework, ask questions, discuss ideas, receive mentoring, and network with other program participants.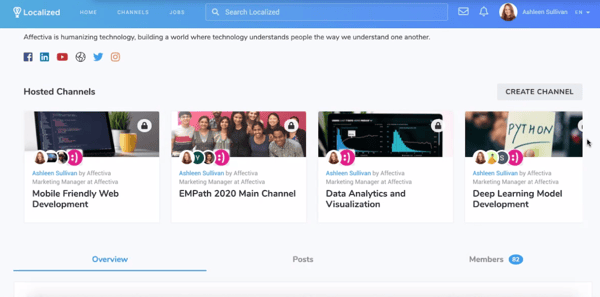 The Proximate Role Model: You Become What You See
The EMPath program was conceived out of a real need to diversify the tech talent landscape, by people who wanted to pay it forward for the next generation. Both Rana and Ronit want to democratize the social capital that is in elite networks to educate and advance the next generation of leaders. The WEF YGL network led to this meaningful collaboration.
A woman-led AI company is not what people imagine when thinking of tech leadership. The notion of a proximate role model—seeing someone ahead of you that you can credibly imagine, "if they can do it, I can do it"—is both the DNA of Localized, and the mission of Affectiva's EMPath program. Working together, Ronit and Rana are driving meaningful change by purposefully changing the stereotypes, encouraging the dialogue and building a future we can all see ourselves in.
Read more about this World Economic Forum YGL Collaboration on the WEF Agenda blog.