Last year, Affectiva was voted into the Startup Autobahn program, the ultimate innovation platform that unites global young tech companies with the unrivalled tech expertise of Silicon Valley and the best of German engineering. We were delighted that over the 500+ startups screened, we were selected to join the 33 startups accepted to the program.
Last month we participated in Demo Day, where attendees from startups to corporations came together to exhibit, pitch, and ideate around what the next generation of cars will look like. Affectiva joined the other startups in pitching our solution for the automotive industry, and joined in the Porsche expo booth to demonstrate our technology in their "Magic Moments" concept. We also collaborated with DXC on a simple mood-aware lighting demo.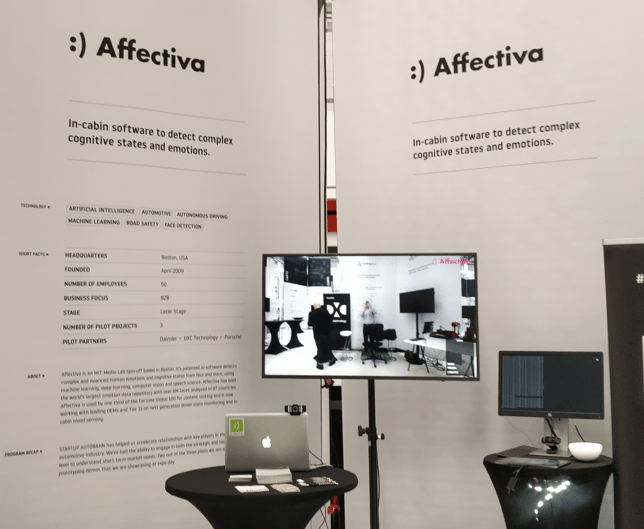 How we Built Magic Moments with Porsche
You are driving a Porsche. Conditions are perfect. Your favorite song comes on the radio, and you drive by a scenic route - maybe by the ocean, or hugging a towering mountainside. Cameras in the car detect your positive emotional state, and snap a photo or record a brief video as you experience the joy of being in the moment - a real "Magic Moment."
Then, once you arrive safely at your destination, you relive this moment - or series of moments, if it was a good ride - with an app on your phone. Once this data is gathered automatically, a trigger is sent to take a photo or video to capture their "Magic Moments", so in can be relived again and again long after their Porsche ride is complete - and safely, so as not to distract the driver while in a moving vehicle. Then you post it to your Facebook profile to share these Magic Moments with your friends on social media through a Facebook post or other channel connected with their Porsche Track Precision App.

That is the idea powered by Affectiva's automotive technology solution, built on computer vision and deep learning. Affectiva uses this patented emotion recognition technology to detect positive expressions of emotion to capture these moments - and with Affectiva, Porsche built a demo to detect positive emotional states of drivers and passengers that attendees could experience at Demo Day.
Mood Lighting with DXC: Demo
In addition to the demo with Porsche, we also collaborated with DXC on another demo project incorporating our emotion sensing capabilities. Using Affectiva's emotion recognition technology, DXC had a hue light that would change color to a user-selected color based on mood. So for example, a user would assign the color purple to contempt. Then when a user expressed that emotion, the light would glow a purple color. The concept was to make the driver aware of what mood they were in in the hope they would self correct.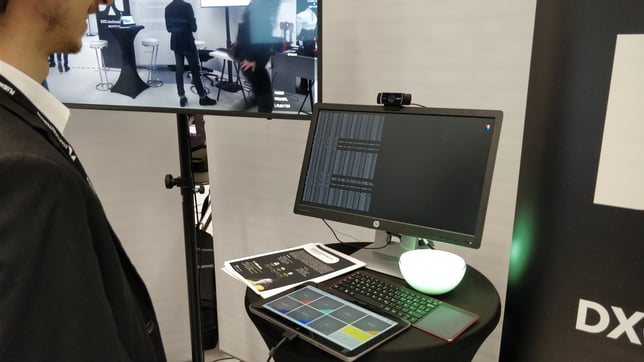 This simple demonstration is just the beginning of applications we envision using our technology for the automotive industry. Lighting is just one component of the overall in-cabin travel experience: what if one day, cars had sensors that were able to depict what was happening with occupants in the car and OEMs were able to design adaptive environmental conditions, such as lighting and heating, based on levels of comfort and drowsiness? This is the world we envision for the automotive industry, and we are working with partners to make it happen!
About Affectiva
Affectiva Emotion AI Humanizes How People and Technology Interact. We are the leading provider of AI software that detects complex and nuanced human emotions and cognitive states from face and voice. Using machine learning, deep learning, computer vision and speech science, Affectiva has the world's largest emotion data repository with over 6M faces analyzed in 87 countries. Affectiva's emotion recognition technology detects 20 facial expression metrics that map to seven emotions.
We help improve road safety by monitoring for driver impairment levels due to drowsiness, distraction, intoxication or cognitive load for next generation driver monitoring systems (DMS) required by L1 to L4 automation. And in the next generation of vehicles, we measure occupant mood and reactions to adapt the vehicle environment and personalize the transportation experience. Contact us to learn more and get started today.