For 150 years and counting, the world's best golf players have faced off at The Open, which represents golf's oldest championship. Event organizers, R&A, have attempted to modernize their offering in recent years by taking advantage of social media and streaming platforms to optimally engage the sport's fanbase.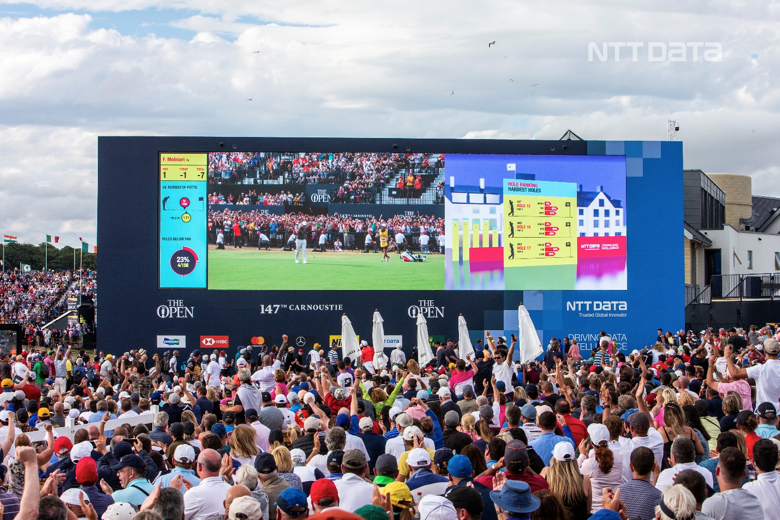 Image credit: NTT DATA
The Challenge: Creating Unique Digital Experience for Golf Fans
Six years ago, the fan-experience at The Open was further enriched when NTT DATA became an Official Patron and introduced The NTT DATA Wall to The Open experience. The idea was to marry a series of data streams in a "centerpiece of spectator engagement," and effectively visualize the experience of The Open. The NTT DATA Wall has evolved over the years, becoming increasingly more advanced with the incorporation of cutting-edge technology. This year, the visualization included 2 streams of data: live updates from all 70 players golfing simultaneously for fan digestion, and emotional reactions to the NTT DATA Wall from viewers standing front of it, digesting all of this information. In order to accomplish this last piece, NTT DATA needed to somehow understand the level of excitement from the crowd outside viewing the wall, and they chose to work with Affectiva to help them accomplish this feat for The 2018 Open. Read more about the NTT DATA Wall.
Why Affectiva?
When evaluating technologies for this task, NTT DATA selected Affectiva for their emotional analysis engine for a number of reasons. First, they were able to take advantage of the breadth of Affectiva's emotion database - using our database of 7 million faces analyzed across 87 countries, Affectiva is able to detect complex and nuanced human emotions and cognitive states from facial muscle movements made when expressing certain emotions. For example, our emotion recognition technology enables us to collect insights into unfiltered consumer emotional responses in order to make apps and digital experiences emotion-aware.
Affectiva also offered the capability for NTT DATA to collect facial images of spectators to calculate a facial expression score - while also ensuring compliance with the strict laws of privacy like GDPR in EU. To avoid violating these laws, scores needed to be calculated without storing personally identifiable information, such as facial images, but rather store abstract information like scores around excitement. More broad cloud APIs were considered as well, but findings from these evaluations revealed that data could not be traced once uploaded to the cloud - and thus NTT DATA would be unable to control data use. In contrast, the Affectiva SDK works locally, on device - without ever sending information up to the cloud for processing.
The Bottom Line
So in order to emotion-enable The Open this year, NTT DATA mounted several cameras atop their huge LED display NTT DATA Wall to capture facial expressions of emotion using our emotion recognition technology. By partnering with Affectiva, they were able to track these facial expressions of emotions - and combined with the noise of the crowd and social media sentiment, NTT DATA was able to create a list of the most exciting moments of the tournament.
Not only did this create another level of personalization and create a beautiful experience for fans, but this initiative helped The Open's brand hone in on what stories to tell, which highlights to cut and much more. See more at the NTT DATA article here.