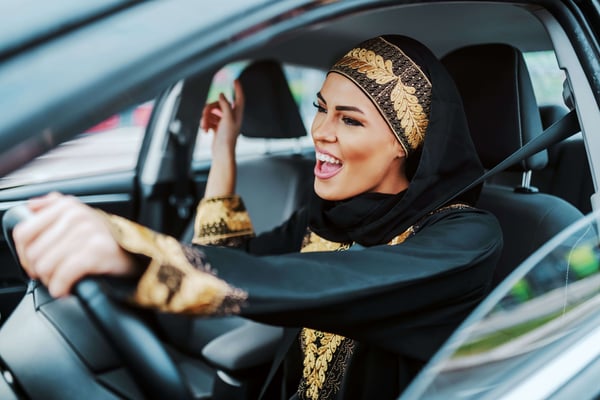 Listening to music while driving around could be considered a cathartic experience. Yet something as simple as audio within the car encompasses more than just the vehicle sound system. There is also the notion of "active sound management," where the sound system in the car is used to cancel things out, like unpleasant engine noise.
Like Affectiva, Bose Corporation also spun out of MIT, and has been making high fidelity music playback systems for cars, for over 30 years. Bose's focus inside the car includes parts of the sound system that actually convey sound to your ears, such as amplifiers and speakers. Bose is also evolving beyond simple audio playback to controlling any car sound to create the most optimal driving experience possible.
In our latest episode of the Affectiva Asks podcast, we interviewed John Pelliccio, Head of Product Communications, Automotive Systems at Bose Corporation. During the interview, he talks to us about his background, the challenges auto manufacturers face with regard to audio within the vehicle, and how understanding something as simple as audio can make a huge difference in your automotive experience.
Tell us about your background; how has your career path taken you to Bose?
I've been in the industry for quite a while, working for Bose for 18 years. I started with an engineering degree from Worcester Polytechnic Institute in Electrical Engineering. Sound has always been in the background as a professional interest for me: I had been a DJ since my early teens, and worked at a radio station in high school. When I got into the workplace I was working for a big defense contractor working on wireless engineering. The precursors to WiFi before it was available in every device were all connected to the internet, WiFi used to be plugged into your computer. I worked on the early versions of those when I first got started. Then I got connected to Bose through a car club ironically: I had a Nissan 300ZX. Another member was a mechanical engineer working at Bose and asked, "Do you want to think about coming and taking a look at what we do? We have a lot of things that probably would be very interesting to you."
So I made that jump and just never looked back. I've worked my way through a number of different engineering product management, product planning roles inside of Bose. Right now, I am the head of Product Communication Design, PCD. I have a small team of people distributed throughout the world. Our job is to take raw information from our product planners and from our market intelligence folks and our R&D people, and weave that into stories that we can tell about some of the unique experiences that Bose has to offer in the automotive space. Working at Bose combines two of the things that I'm most passionate about: sound and cars.
Can you explain a little more the Bose evolution from audio playback to new ways you're looking to manage sound inside the cabin of a car?
There's a desire inside Bose Corporation to be able to not only provide great music, but to be able to provide a number of different ways to make your life better through audio. So if you look at some of the product offerings that have been coming out of Bose in the last year or so (not only are they things like Bluetooth speakers and sound bars), we're starting to focus on headphones that have multiple microphones in them so that you can do great conference calls from home or on the go or wherever you happen to be. We also are working on systems that can reduce outside noise so that you can concentrate on what you're doing or focus better on the music that you're listening to. Then smart wearables, things like audio equipped sunglasses (we call them Frames) or even headphones that are designed not only to reduce outside noise, but they help you concentrate on specific sounds. So if you're a little bit hard of hearing, you can wear these "hearphones", and they will allow you to focus better on things like conversations.
This whole idea of "audio for life," the idea of being able to use audio to make your life better in a number of different ways plays out in automotive by addressing a market desire. The pull for music is always really strong. People always like to know that they're going to have a good music system in their car. In fact, they're willing to pay for it by purchasing a higher option package that has premium audio in it.
We also noticed that there's strong desires for things like communications and safety features, and so we want to have a holistic offering in a car that can address all of those things too. So while we've been focusing on being able to do great music since that first 1983 Cadillac Seville, we've started looking beyond music. One of our first forays in that area was into what we call active sound management, where you are using the sound system in the car to actively cancel things like engine harmonics, booms, drones and buzzes that make the engine unpleasant to listen to at certain RPMs. We introduced that in the 2011 Cadillac Escalade.
Now we're looking beyond just music into a whole new realm of being able to control any sound in any car at any time while you're driving, because we think that that leads to a much more holistic and enjoyable driving experience.
Affectiva's also working in the automotive space, to provide in-cabin sensing solutions to car companies and optimizing what the in-cabin environment looks and feels like. In the realm of different people experiencing different things in the car, can you speak on what you envision that looking like?
We spend a lot of time talking about the acronym CASE (Connectivity, Autonomy, Sharing and Electrification), and how those four things are going to revolutionize the way the auto industry works in the next 10 or 20 years. For example, with "Sharing,"one of the things I noticed driving with my kids is that they are generally not interested in listening to what my wife and I are listening to. That leads to an opportunity for seat-centric experiences. A seat-centric experience is something that is observed or listened to differently in one seat than in the other seats.
Another example would be "aware signal steering", where the driver is listening to navigation prompts that are not necessarily audible to other people in the car. Or, you're taking a phone call privately in one seat that you can't hear in any other places. Those are opportunities for us to be able to create some really unique experiences for the times when you're not by yourself in the car and you have multiple occupants, whether those multiple occupants are people you know or people you don't - such as in a ridesharing use case.
There's also the question of seat location, and the ability to have a different volume in the front versus in the back. In the front, you could be listening to music on the car sound system, and in the back, the volume was subdued, so that people could watch movies on brought-in devices, without having to contend with the noise from the car sound system. This could be an opportunity for driver-centric information - or the ability for phone calls and driver-specific information to be presented in the driver's seat, but in a way that's not necessarily audible to other people in the car. The Holy Grail of this is known as "content zones," which is the ability to actually listen to different pieces of music simultaneously in different seats.
For the full interview, listen to the Affectiva Asks podcast.